Daily review of the GBP / USD pair on 07.09.18. Ichimoku Indicator
[ad_1]

GBP / USD pair
The strength and attraction of support levels at 1.2904 – 1.2820 (Fib month + Kijun historical level) continue to hold the pair, not allowing players to continue its decline to the weekly goals for the breakdown of the cloud at 1.2302 – 1.2072. The prolonged inhibition, as well as to the side of the players to rise of the weekly short-term trend (1.3012), will contribute to the development of ascending correction.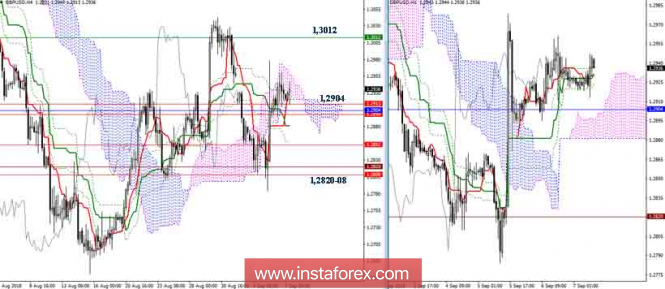 At lower time intervals, it is clear that the support that holds back the development of the situation. Overcoming and reliable consolidation below 1.2904 area and 1.2820-08 allow consideration of the resumption of bearish sentiment and upgrade the minimal peak of 1.2661, which will restore the global downtrend. Saving the players to rise is at the insignificant moment. Benefits can contribute to the rise of the resistance at 1.3012 and the overcoming of which will lead to a resumption of the upward movement.
Indicator parameters:
all time intervals 9 – 26 – 52
Color of indicator lines:
Tenkan (short-term trend) – red,
Kijun (medium-term trend) – green,
Fibo Kijun is a green dotted line,
Chikou is gray,
clouds: Senkou Span B (SSB, long-term trend) – blue,
Senkou Span A (SSA) – pink.
Color of additional lines:
support and resistance MN – blue, W1 – green, D1 – red, H4 – pink, H1 – gray,
horizontal levels (not Ichimoku) – brown,
trend lines – purple.
The material has been provided by InstaForex Company – www.instaforex.com

[ad_2]

Source link