Daily review of the GBP/JPY and EUR/JPY at 20.06.17. Indicator Ishymoku (Demo)
GBP/JPY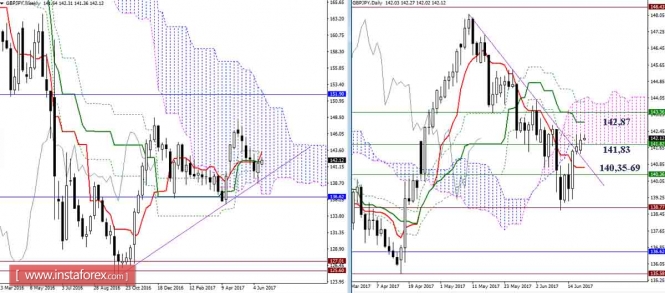 Met abroad 141.83, combining multiple levels of Ichimoku senior halves (weekly Kijun 141.83 + day senkou span b 141.83 + day Fibo Kijun 141.87), became the center of attraction. Players on the rise while unable to actively continue to rise, the closest reference point which remains fluorescent Kijun (142.87). Consolidation in the region and the subsequent decline 141.83 can significantly affect developments and supports return 140.69 (day Tenkan) and 140.35 (week Of Kijun) on the side of the bears can neutralize Bull achievements last week and return a couple testing trendline (138.77).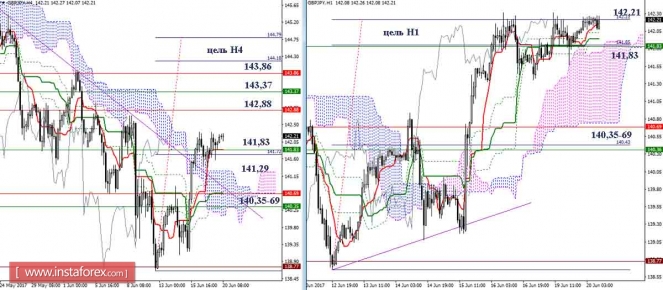 Since the last analysis the situation had not changed significantly. The main aim of waste continues to provide resistance to break clouds H1 (100%-142.21). Safe bridging objectives would pave the way to the resistances of senior halves (142.88-143.37-143.86). Affect the balance of power in favor of a downward correction today will help pinning under 141.83 (Tenkan H4 + Kijun H1 + H1 + senkou span a levels of senior halves). Intermediate support may rise to 141.29 (senkou span b H4), but the most important area of support is still 140.69 -35 (Association of the most important levels of junior and senior time frames).
EUR/JPY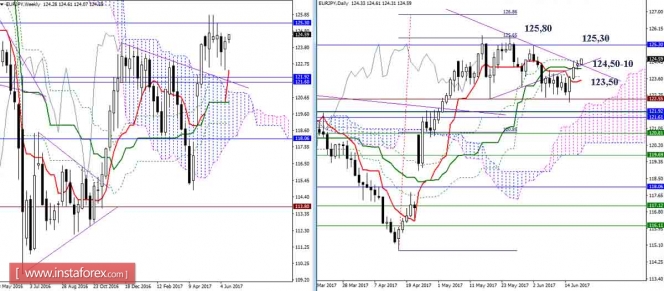 Past day couple held in thinking between daily levels encountered by cross (Kijun 124.10 + Fibo Kijun 124.50). Overcoming the resistance of the final frontier day cross (124.50) paves the way for the return of the monthly Kidzhunu (125.30). Fastening below the medium-term trend (124.10) will consider lowering the closest support this will serve day Tenkan (123.50).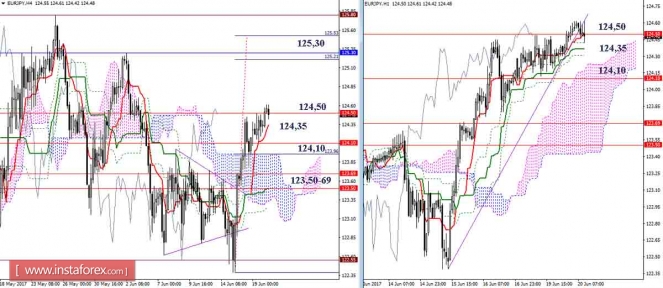 Support ichimoku indicator remains on the side of the players on the rise, but the force to cope with the level of 124.50, clearly not enough, vigorously pursue lifting the bulls not yet. Affect the distribution of the balance of forces Junior halves today can dock under 124.35 (Tenkan H4 + Kijun H1). Next among the supports of the situation we can mention 124.10 (day Kijun + clouds junior halves) and 123.69 -50 (daytime levels + Kijun H4 + bottom border clouds H1).
Indicator parameters:
all timings 9-26-52
The line color of the indicator:
Tenkan (short-term trend)-red,
Kijun (mid-term trend)-green,
FIBO Kijun-green dot,
Chinkou-grey,
clouds: senkou span b (SSB, long-term trend)-Blue
Senkou span a (SSA)-pink.
The color of the additional lines:
support and resistance of MN-blue-green, W1, D1-red, H4, H1-pink-grey
horizontal levels (not Ishymoku)-Brown
Trendlines-purple.
Sincerely, analyst instaforex company Hope Sinew
Material is provided by InstaForex-www.instaforex.com