EUR/USD. 10 July. The political crisis in Britain caused demand for the US dollar
[ad_1]

4-hour timeframe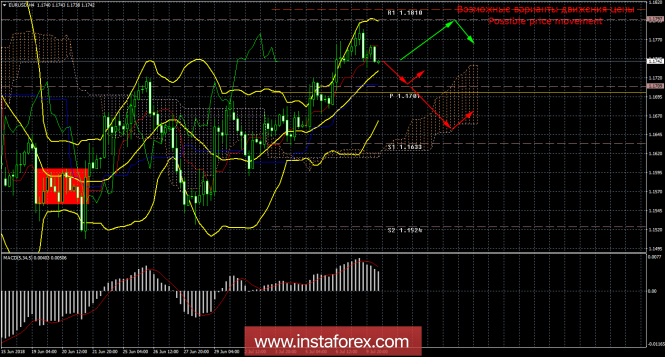 Amplitude of the last 5 days (high-low): 52p – 51p – 70p – 88p – 58p.
The average amplitude for the last 5 days is 64p (72p).
Important macroeconomic reports during the first trading day of the week in the European Union and the United States were not published. However this happens often in recent times, as there were some new statements from Donald Trump. This time, the US president stated his opinion and criticized the NATO countries that spend too little on defense issues. The states list about 4% of GDP for NATO financing, while Germany had 1% only. This does not suit Trump, and world experts have already begun to talk about the fact that the US leader can destroy the Alliance. Given the radical actions of Trump in all areas, this option cannot be ruled out. Trump likes to set conditions, non-fulfillment of which leads to sanctions and conflicts. However, this event did not caused the increased in demand for the dollar yesterday. The main events took place in the UK, where Foreign Minister Boris Johnson, as well as Brexit minister David Davis had resigned. These politicians, like many other members of Parliament, disagree with Theresa May's policy and believe that Brexit's procedure is falling apart. After the appearance of this information, both the euro and pound sterling rushed down. The euro did not fell not too much, so yesterday's decline can be attributed to the sheer correction which has been brewing after two days strengthening of the currency pair. In turn, ECB head Mario Draghi noted that the quantitative incentive program perfectly supported inflation and the European economy at the right time. However, Draghi still fears the protectionism policy of Donald Trump and the trade war in which the EU is already involved. Technically, the pair switched to the downward correction to the critical Kijun-sen line, and the average volatility fell to 64 points a day.
Trading recommendations:
The EUR/USD currency pair has started correction but the uptrend persists. Thus, it is now recommended to wait for the completion of the correction and look for new entry points for longs with a target of 50-60 points above the correction completion point.
Short positions can be considered small lots for the Kijun-sen line, as the MACD indicator turned down. Shorts can be closed near the critical line, as the instrument is preserved before the upward trend.
In addition to the technical picture, one should also take into account the fundamental data and the time of their release.
Explanations to the illustration:
Ichimoku Indicator:
Tenkan-sen is a red line.
Kijun-sen is a blue line.
Senkou Span A is a light brown dotted line.
Senkou Span B – a light purple dotted line.
Chinkou Span is a green line.
Bollinger Bands Indicator:
3 yellow lines.
MACD indicator:
Red line and histogram with white bars in the indicator window.
* The presented market analysis is informative and does not constitute a guide to the transaction.
The material has been provided by InstaForex Company – www.instaforex.com

[ad_2]

Source link