EUR / USD. 14th of September. The trading system "Regression channels". Euro grows, but ECB has nothing to do with it
[ad_1]

4-hour timeframe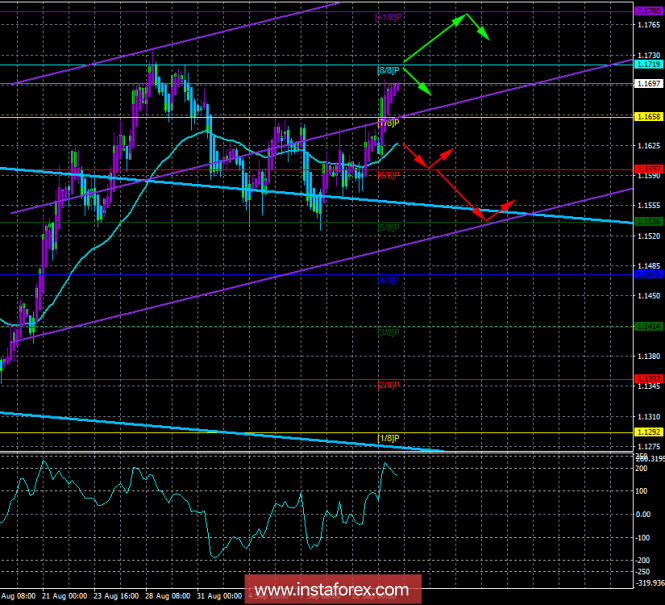 Technical data:
The senior channel of linear regression: direction – down.
The younger channel of linear regression: the direction is up.
The moving average (20; flattened) is up.
СCI: 161.8011
The currency pair EUR / USD on September 14 continues the growth that began on the previous day, not connected with the results of the ECB meeting or the speech of Mario Draghi. We continue to believe that the fall in the US currency was caused yesterday by weak inflation in the United States. Thus, by the present moment, the frustration effect associated with the disappointing CPI should have already weakened. Proceeding from this, to continue the ascending movement of the pair, new fundamental reasons will be required. The euro continues to move up exclusively, thanks to America and the actions and statements of Donald Trump. Today, from macroeconomic events, only reports on retail sales and industrial production in the States for August can be identified. These reports may well affect the movement of the currency pair, but everything will depend on how optimistic the figures in these reports will be. The forecasts indicate a possible decrease in the growth rates of retail sales and an increase in industrial production by 0.3%. We also continue to believe that Trump took the dollar seriously. And many of his actions, some even hidden from the public, will be directed precisely at the depreciation of the dollar. There is no important news on the topic of the trade war, and we recommend, as before, to monitor any Trump messages, including his Twitter, and news from the White House.
Nearest support levels:
S1 = 1.1658
S2 – 1,1597
S3 – 1.1536
Nearest resistance levels:
R1 = 1.1719
R2 = 1,1780
R3 = 1.1841
Trading recommendations:
The currency pair EUR / USD continues to move up, as indicated by the purple bars of the indicator Heikin Ashi. The goal, thus, for purchases now is the level of 1.1719, and in the case of its overcoming, 1.1780.
It is recommended to open short positions not earlier than traversing the moving average line. In this case, the target will be the level of Murray "5/8" – 1.1536, and the trend for the instrument will change to a descending one.
In addition to the technical picture, one should also take into account the fundamental data and the time of their release.
Explanations for illustrations:
The upper channel of linear regression is the blue lines of unidirectional motion.
The lowest linear regression channel is the violet lines of unidirectional motion.
CCI – the blue line in the indicator window.
Moving average (20; smoothed) – the blue line on the price chart.
Levels of Murray – multi-colored horizontal stripes.
Heikin Ashi is an indicator that color bars in blue or purple.
The material has been provided by InstaForex Company – www.instaforex.com

[ad_2]

Source link