EUR / USD. 26th of July. Results of the day. Mario Draghi once again took a "soft" position
[ad_1]

4-hour timeframe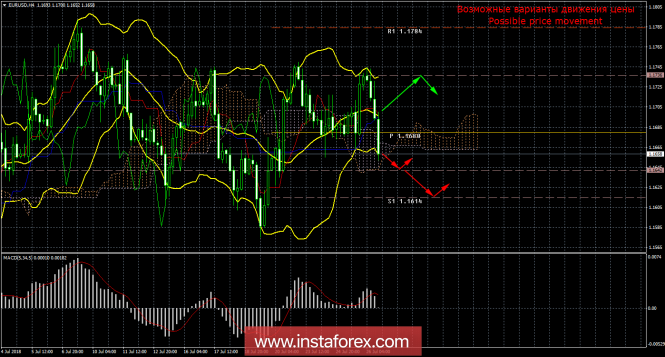 Amplitude of the last 5 days (high-low): 100p – 112p – 66p – 62p – 75p.
The average amplitude over the last 5 days is 83n (81n).
On Thursday, July 26, traders focused on the speech of ECB President Mario Draghi at a press conference on the regular meeting of the regulator. As expected, the key and deposit rates remained unchanged. No changes in Monetary Policy and plans Draghi announced. On the contrary, the ECB head noted that rates will remain at record low levels, at least until the summer of 2019, and confirmed that the quantitative incentive program will end in late 2018. Such rhetoric was already enough to make the euro come under pressure because Draghi did not indicate any optimistic forecasts. Further – worse. Mario Draghi noted that the EU economy still needs significant incentives to maintain inflation at the target level. It was also said that to maintain inflation, as before, any monetary policy instruments will be used. In addition, Draghi refrained from expressing joy at the verbal agreements between Jean Claude Juncker and Donald Trump regarding the gradual reduction of trade duties. It seems that Draghi believes that any agreements that are not sealed by the relevant documents can be violated at any time. And in this judgment, he is most likely right. Trump has long established himself as a man who easily changes his mind and takes his words back, motivating it by acting in the interests of the state. And if the state is profitable, then he, Trump, is right. Thus, we also believe that celebrating the "reunification" of the EU and the US will be possible when the duties begin to be canceled on both sides, not earlier. Until then, any new discontent of Trump could lead to new threats to the European Union, which, first of all, any trade barriers are unprofitable.
Trading recommendations:
The pair EUR / USD has started a downward correction, which may develop into a downtrend. At the moment, short positions with targets support levels of 1.1642 and 1.1614 are relevant. The development of these levels will allow you to manually shorten the shorts or leave them on the warrant Take Profit.
It is recommended to open a buy order after fixing the price above the Kijun-Sen line, which will mean a change in the short-term trend towards an upside. The goal, in this case, will again be the level of 1.1736, which has been traded by traders already three times.
In addition to the technical picture, one should also take into account the fundamental data and the time of their release.
Explanations to the illustration:
Ichimoku Indicator:
Tenkan-sen is a red line.
Kijun-sen is a blue line.
Senkou Span A is a light brown dotted line.
Senkou Span B – a light purple dotted line.
Chinkou Span is a green line.
Bollinger Bands Indicator:
3 yellow lines.
MACD indicator:
Red line and histogram with white bars in the indicator window.
The material has been provided by InstaForex Company – www.instaforex.com

[ad_2]

Source link