Eurozone activity is growing, and US relations with China are deteriorating
[ad_1]

While the matter is, the order of the US Customs and Border Service to impose new duties on goods imported from China came into force today. The Chinese authorities did not wait long and introduced new retaliatory trade duties worth $16 billion.
It is worth noting that at the same time, the second round of negotiations aimed at resolving the trade conflict, which the United States began more than a month ago, continues. So what kind of agreements can we talk about if even during the "truce" protective measures are introduced?
Let me remind you that the new 25% duty on the part of the United States applies to chemicals, machinery and equipment produced in China, as well as a number of other goods.
Today, a number of preliminary data on the PMI of France, Germany and the Eurozone were released.
Activity in Germany increased, despite the fact that the preliminary index of PMI supply managers for the manufacturing sector in August this year fell to 56.1 points against 56.9 in July. Economists had expected this figure to be 56.5 points. But the preliminary index of PMI supply managers for the service sector in August rose to 55.2 points, against 54.1, while economists expected it to decline to 54.2 points.
Germany's composite PMI purchasing managers index rose to 55.7 points in August, from 55.0 points in July.
Business activity in France in August also showed growth due to the services sector. According to IHS Markit, the composite index of supply managers in France in August rose to 55.1 points against 54.4 points in July.
In view of this, the growth of activity in the eurozone economy in August also accelerated.
This suggests that, despite the strengthening of trade conflicts and weakening external demand, the eurozone economy is in perfect order.
According to IHS Markit, the preliminary composite index of supply managers of the eurozone PMI in August was 54.4 points against 54.3 points in July. Let me remind you that the index value above 50 indicates an increase in activity. Economists had forecast the index to rise to 54.5 points in August.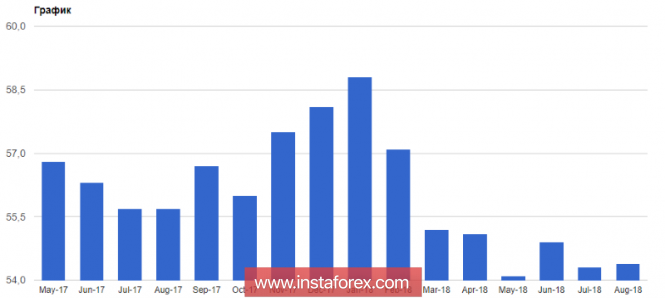 Today, several statements were made by the ECB representative Jens Weidmann, who noted the economic recovery in Germany, but expressed concerns about increasing trade risks. According to Weidmann, the European Central Bank will wind down the stimulus only gradually.
The technical picture remained unchanged. There is no need to hurry with buying the euro yet. Optimal levels located in the area of 1.1450, and 1.1490. The main task of buyers is to break the resistance of 1.1620 and reach new highs of 1.1660 and 1.1690.
The material has been provided by InstaForex Company – www.instaforex.com

[ad_2]

Source link