Fundamental Analysis of AUD/JPY for August 2, 2018
[ad_1]

AUD/JPY has been residing inside the range boundary between 80.50 to 84.50 area for a few days now. Currently, the price has been pushing lower quite impulsively which is expected to lead to certain bearish momentum in the coming days. Despite the recent worse economic reports on the JPY side, gaining over AUD having positive economic reports does indicate the weakness of AUD in the process.
Today AUD Trade Balance report was published with a significant increase to 1.87B from the previous figure of 0.73B which was expected to be at 0.91B. Despite the positive economic reports with such a significant increase in a result which is way better than the expectation, AUD failed to gain momentum over JPY.
On the other hand, JPY has been struggling with the economic reports recently which includes increased in Unemployment Rate to 2.4% from the previous value of 2.2%, BOJ Policy Rate remaining unchanged at -0.10% and Consumer Confidence also decrease to 43.5 from the previous figure of 43.7. Ahead of the Monetary Policy Meeting Minutes tomorrow, today JPY Monetary Base report was published with a decrease to 7.0% from the previous value of 7.4%.
As of the current scenario, Despite the worse economic reports, JPY has been sustaining its gains over AUD which lead to certain impulsive bearish pressure in the market already. As of the recent BOJ Policy Report, BOJ is looking forward for upcoming development and quite optimistic with the future growth which is currently analyzed to be the hidden factor behind the impulsive growth of JPY against AUD in the process. As AUD is struggling to gain momentum despite the positive economic reports like Trade Balance, JPY is expected to gain further in the coming days.
Now let us look at the technical view. The price is currently quite impulsive with the bearish gains which has already taken out the dynamic level of 20 EMA with mass extent and expected to push lower further with target towards 80.50 in the coming days. As the price remains below the recent lower high at 83.00 and below the resistance area of 84.50, the bearish bias is expected to continue further.
SUPPORT: 80.50
RESISTANCE: 84.50
BIAS: CORRECTIVE
MOMENTUM: BEARISH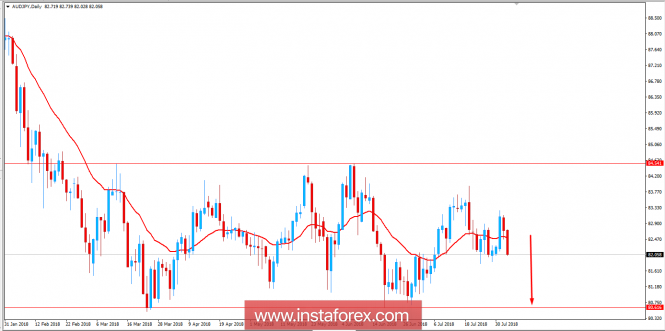 The material has been provided by InstaForex Company – www.instaforex.com

[ad_2]

Source link