Fundamental Analysis of EUR/GBP for August 2, 2018
[ad_1]

EUR/GBP has been pushing higher despite the volatile momentum it has been struggling for a few months now. Both currencies in the pair are struggling fundamentally and technically which is a result of indecisive actions taken fundamentally and by the market participants.
Ahead of the GBP Official Bank Rate hike from 0.50% to 0.75%, the market is expected to be quite volatile which is expected to lead to certain spikes in the process. As of the Brexit impact and Trade War affecting the growth of the GBP in many ways, the Bank of England is currently looking forward to maintaining the Inflation rate at 2% to keep the economy stable. This is the second time after the big recession at a 2008-2009 session that the UK is increasing its Official Bank Rate. Some of the officials still believe that the UK should have increased the rate earlier to maintain the stability in the economy and by the next few years, there should be at least 2-3 rate hikes for the UK for better outcomes in the future.
On the other hand, ECB has been struggling as well about the recent economic reports including today's Spanish Unemployment Change increasing to -27.1k from the previous figure of -90.0k which was expected to be at -87.6k and PPI also decreasing to 0.4% from the previous value of 0.8% but it managed to be slightly above from the expected value of 0.3%.
As of the current scenario, GBP is all set to gain certain momentum over EUR while latest economic reports on the EUR side is still quite dovish and mostly indecisive. As Official Bank Rate of UK increases and any optimistic update from the BOE Inflation Report and UK Monetary Policy Summary publishes, GBP is expected to gain further momentum in the process against EUR in the coming days.
Now let us look at the technical view. The price has been quite bearish recently having a Bearish Divergence in place which pushed the price lower off the 0.8950 area with a daily close. Currently, the price is being held by the dynamic level of 20 EMA which is expected to push the price lower with a target towards 0.8850 in the coming days before showing any evidence of bullish intervention in the process. If price fails to push higher off the 0.8850 area, a daily close below 0.8850 is expected to inject impulsive bearish momentum in the pair in the coming days.
SUPPORT: 0.8850
RESISTANCE: 0.8950
BIAS: BULLISH
MOMENTUM: VOLATILE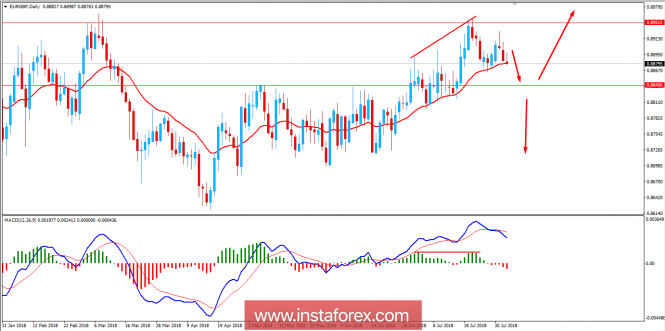 The material has been provided by InstaForex Company – www.instaforex.com

[ad_2]

Source link