Fundamental Analysis of USDCHF for July 20, 2018
[ad_1]

<!–
/* Font Definitions */
@font-face
{font-family:Calibri;
panose-1:2 15 5 2 2 2 4 3 2 4;
mso-font-charset:204;
mso-generic-font-family:swiss;
mso-font-pitch:variable;
mso-font-signature:-536870145 1073786111 1 0 415 0;}
/* Style Definitions */
p.MsoNormal, li.MsoNormal, div.MsoNormal
{mso-style-unhide:no;
mso-style-qformat:yes;
mso-style-parent:"";
margin-top:0cm;
margin-right:0cm;
margin-bottom:10.0pt;
margin-left:0cm;
line-height:115%;
mso-pagination:widow-orphan;
font-size:11.0pt;
font-family:"Calibri","sans-serif";
mso-ascii-font-family:Calibri;
mso-ascii-theme-font:minor-latin;
mso-fareast-font-family:Calibri;
mso-fareast-theme-font:minor-latin;
mso-hansi-font-family:Calibri;
mso-hansi-theme-font:minor-latin;
mso-bidi-font-family:"Times New Roman";
mso-bidi-theme-font:minor-bidi;
mso-fareast-language:EN-US;}
p
{mso-style-noshow:yes;
mso-style-priority:99;
mso-margin-top-alt:auto;
margin-right:0cm;
mso-margin-bottom-alt:auto;
margin-left:0cm;
mso-pagination:widow-orphan;
font-size:12.0pt;
font-family:"Times New Roman","serif";
mso-fareast-font-family:"Times New Roman";}
.MsoChpDefault
{mso-style-type:export-only;
mso-default-props:yes;
font-family:"Calibri","sans-serif";
mso-ascii-font-family:Calibri;
mso-ascii-theme-font:minor-latin;
mso-fareast-font-family:Calibri;
mso-fareast-theme-font:minor-latin;
mso-hansi-font-family:Calibri;
mso-hansi-theme-font:minor-latin;
mso-bidi-font-family:"Times New Roman";
mso-bidi-theme-font:minor-bidi;
mso-fareast-language:EN-US;}
.MsoPapDefault
{mso-style-type:export-only;
margin-bottom:10.0pt;
line-height:115%;}
@page WordSection1
{size:612.0pt 792.0pt;
margin:2.0cm 42.5pt 2.0cm 3.0cm;
mso-header-margin:36.0pt;
mso-footer-margin:36.0pt;
mso-paper-source:0;}
div.WordSection1
{page:WordSection1;}
–>
USD/CHF has been quite volatile and corrective at the edge of 1.0050 area
from where the price is currently showing impulsive bearish pressure. As 1.0050
has been quite successful to push the price lower earlier, this time it is
expected to inject some bearish pressure in the pair as well.
Despite positive economic data, USD is struggling to sustain its momentum it
had over CHF in the earlier days. Today the economic calendar does not contain economic data or
events from the US which might impact the market semtiment on USD. However,
some the US presented upbeat data recently. Unemployment Claims to decreased by
207k from the previous figure of 215k and Philly FED Manufacturing Index rose
to 25.7 from the previous figure of 19.9. Ahead of the flash GDP report to be
published next week, USD could not sustain the momentum.
On the CHF side, yesterday Switzerland's Trade Balance report was published with a decrease to 2.59B from the previous figure of 2.81B which was expected to increase to 3.22B. Despite downbeat readings, CHF managed to gain momentum over USD which indicates which is the weaker currency in the pair at the moment.
At present, amid the lack of economic reports from Switzerland, CHF is expected to gain certain momentum over USD in the coming days which might lead to impulsive downward move in the process which might counter in the coming days.
Now let us look at the technical view. The price has recently formed Bearish Divergence while rejecting off the 1.0050 area earlier from where it is currently expected to push lower towards 0.9800 support area in the coming days. Though certain volatility can be observed right now in the market but as the price remains below 1.0050 area with a daily close, the bearish bias is expected to continue in this pair.
RESISTANCE: 1.0050
SUPPORT: 0.9800
BIAS: BEARISH
MOMENTUM: VOLATILE AND COUNTER IMPULSIVE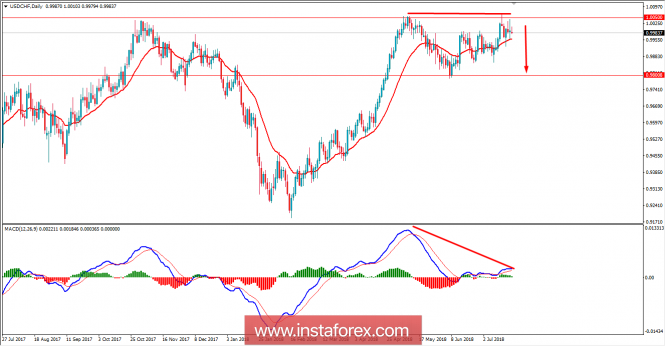 The material has been provided by InstaForex Company – www.instaforex.com

[ad_2]

Source link