GBP / USD. 10th of July. The resignations of David Davis and Boris Johnson dumped the pound sterling
[ad_1]

4-hour timeframe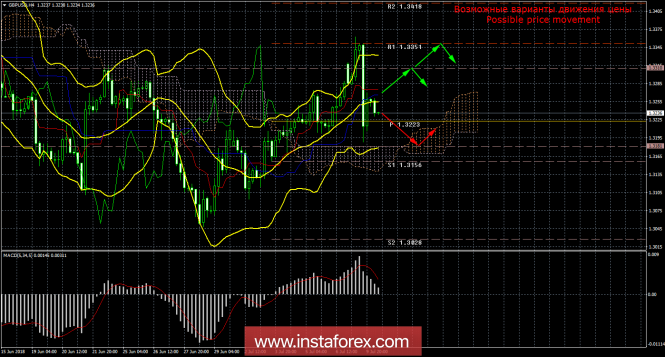 Amplitude of the last 5 days (high-low): 92p – 79p – 71p – 87p – 174p.
The average amplitude for the last 5 days is 101p (89p).
In the United Kingdom, a political crisis is brewing. Yesterday, it became known that Foreign Minister Boris Johnson and the Minister for Brexit David Davis decided to leave their posts. Both politicians have expressed negative opinions about the policy of Theresa May and believe that her plan to exit the country from the EU is not feasible. Thus, the authority of Theresa May collapses before her eyes and it will be very difficult for her to stay in power. Johnson and Davis took an active part in the UK withdrawal procedure from the EU and their departure is a signal that very few members of Parliament agree with May's policy. A little later, Theresa May warned the Parliament that the country should prepare for any Brexit scenario, including "hard". Thus, the chances of a "soft" scenario are melting away. Already the former Minister for Brexit David Davis believes that Brussels can make new demands for concessions, considers it unlikely that Britain will leave the Customs Union and the common market and is against the "soft" scenario of Brexit. Thus, in the United Kingdom political chaos reigns now, and the pound sterling, just beginning to restore its positions against the dollar, may again collapse into the abyss. The results of the referendum two years ago showed that about half of the country's citizens do not support the idea of secession from the EU. Approximately the same alignment of forces is present in the British Parliament and even within the Conservative Party. May in the early elections failed to form a majority, and now her political positions are deteriorating every day. In general, in the medium term, the pound's positions again look depressing, and traders now need to closely monitor not only the regular speeches and statements of Trump but also the news from the Parliament of Great Britain.
Trading recommendations:
On Tuesday, the currency pair GBP / USD fell back slightly but remained below the Kijun-Sen line. Thus, shorts are now relevant for small lots (since there is no "dead cross" yet) with targets of 1,3181 and 1,3156.
Buy-positions will again become relevant only after the bulls are fixed above the critical line with targets of 1.3310 and 1.3351. However, given the latest news from the UK, this scenario is now considered unlikely.
In addition to the technical picture, one should also take into account the fundamental data and the time of their release.
Explanations to the illustration:
Ichimoku Indicator:
Tenkan-sen is a red line.
Kijun-sen is a blue line.
Senkou Span A is a light brown dotted line.
Senkou Span B – a light purple dotted line.
Chinkou Span is a green line.
Bollinger Bands Indicator:
3 yellow lines.
MACD indicator:
Red line and histogram with white bars in the indicator window.
The material has been provided by InstaForex Company – www.instaforex.com

[ad_2]

Source link