GBP / USD. 1st of October. The trading system "Regression channels". Theresa May is trying to reassure everyone
[ad_1]

4-hour timeframe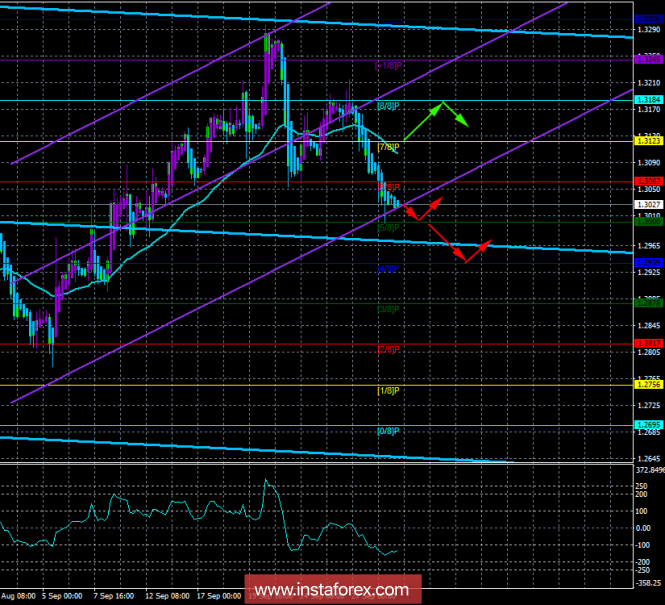 Technical data:
The senior linear regression channel: direction – down.
The younger linear regression channel: direction – up.
Moving average (20; smoothed) – down.
CCI: -131.7658
The British pound sterling also began to fall in price against the US currency. If at least one purple bar was formed in the EUR / USD currency pair, then this was not the case for the GBP / USD currency pair. Thus, purely from a technical point of view, it is not necessary to expect an upward correction. For today in the UK and in the States, business activity indices in the production sectors will be published. British IDA can have a significant impact on the movement of a pair. But in general, when making trading decisions, we recommend relying, first of all, on technical analysis. There will be little news today, unless, of course, any unexpected information appears on Brexit or on the topic of the trade war between the States and China. Thus, sharp turns and high volatility are not expected today. By the way, the UK has already made an official statement in which it called on the EU to offer its own version of Brexit, if Brussels does not like the plan for Theresa May. Theresa May, in turn, said that Brexit will be successful in any case, regardless of whether it is possible to agree with the EU or not. True, these words look like an attempt to appease Parliament and the public. Absolutely everybody understands that without the "deal" of Great Britain, it will be much harder than with the "deal". Independent experts have already spoken about this, and Mark Carney is the chairman of the Bank of England.
Nearest support levels:
S1 – 1,3000
S2 – 1.2939
S3 – 1.2878
Nearest resistance levels:
R1 = 1.3062
R2 – 1.3123
R3 – 1.3184
Trading recommendations:
The currency pair GBP / USD continues to move down, as indicated by the blue bars of Heikin Ashi. Thus, it is recommended to remain in sales with targets at 1.3000 and 1.2939, before turning this indicator up.
Long positions are recommended to open no earlier than the bulls overcome the moving average line. In this case, the trend in the instrument will change to ascending, and the target for the upward movement will be the level of 1.3184.
In addition to the technical picture should also take into account the fundamental data and the time of their release.
Explanations for illustrations:
The senior linear regression channel is the blue lines of the unidirectional movement.
The lower linear channel is the purple lines of unidirectional movement.
CCI is the blue line in the indicator regression window.
The moving average (20; smoothed) is the blue line on the price chart.
Levels of Murray – multi-colored horizontal stripes.
Heikin Ashi is an indicator that colors bars in blue or purple.
The material has been provided by InstaForex Company – www.instaforex.com

[ad_2]

Source link