GBP / USD. 24th of September. The trading system "Regression channels". Negotiations on Brexit at the EU summit failed
[ad_1]

4-hour timeframe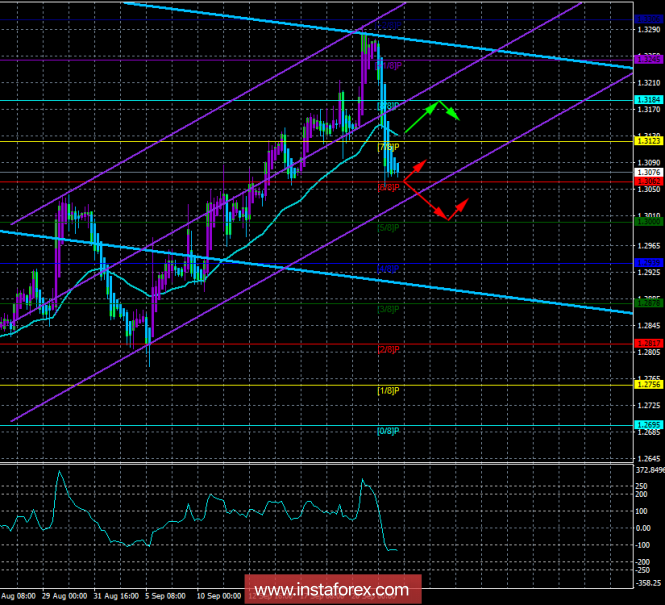 Technical data:
The senior channel of linear regression: direction – down.
The younger channel of linear regression: the direction is up.
Moving average (20, smoothed) – down.
CCI: -143.6352
The currency pair GBP / USD on Monday, September 24, continues the downward movement, which began on Friday. On Thursday, we already wrote that the information that negotiations on Brexit allegedly reached an agreement have not been confirmed. And on Friday, Theresa May issued an official statement summing up the results of the EU summit, in which she announced that the negotiations had reached a dead end. According to the British Prime Minister, it is the EU that is to blame for this, which rejected May's proposal and did not provide its alternative proposal. Thus, as before, two key questions remain unresolved: trade relations between the EU and Britain after Brexit and the border between Ireland and Northern Ireland. Conclusion: no agreements have been reached, as we wrote earlier, and the pound sterling completely logically fell down. It will continue to fall if May does not find a way to negotiate with the EU. And there are fewer and fewer chances for this every day. New concessions to May will cause even greater displeasure in the British Parliament and among the public. May's plan and so many are displeased, even inside her own Party. New concessions will further undermine the credibility of her. A group of dissatisfied with its conservative policies can withdraw its premier earlier than planned in April 2019. All this political crisis will continue to put pressure on the British pound.
Nearest support levels:
S1 = 1.3062
S2 – 1,3000
S3 – 1.2939
Nearest resistance levels:
R1 = 1.3123
R2 = 1.3184
R3 = 1.3245
Trading recommendations:
The currency pair GBP / USD overcame the removals. Thus, short positions with a target of 1.3062, which has already been worked out, are relevant. Overcoming this target will allow you to hold short positions with the next target of 1.3000.
Orders for purchase are recommended to be considered no earlier than the reverse fixing of the price above the removals for the purpose of 1.3184. But to do this, you need a strong fundamental foundation, and it's even hard to imagine what they can be.
In addition to the technical picture, one should also take into account the fundamental data and the time of their release.
Explanations for illustrations:
The upper channel of linear regression is the blue lines of unidirectional motion.
The junior channel is linear-violet lines of unidirectional motion.
CCI – the blue line in the regression window of the indicator.
Moving average (20; smoothed) – the blue line on the price chart.
Levels of Murray – multi-colored horizontal stripes.
Heikin Ashi is an indicator that color bars in blue or purple.
The material has been provided by InstaForex Company – www.instaforex.com

[ad_2]

Source link