GBP / USD. 28th of September. The trading system "Regression channels". The movement of the pound is now influenced by a
[ad_1]

4-часовой таймфрейм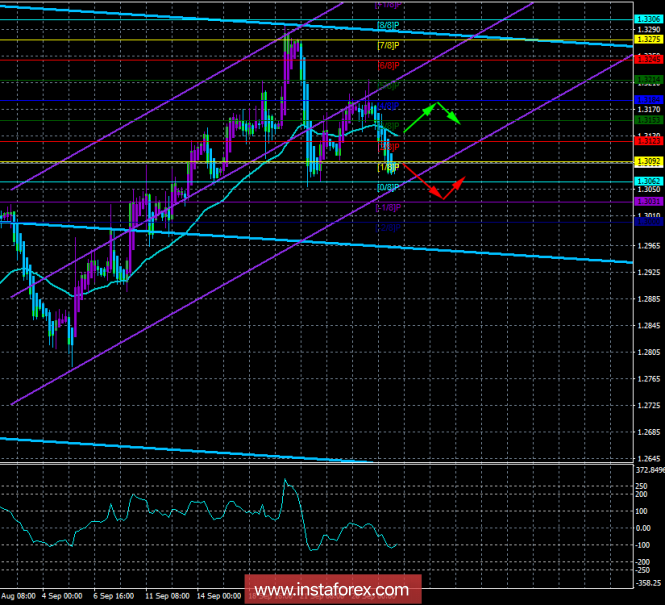 Technical data:
The senior channel of linear regression: direction – down.
The younger channel of linear regression: the direction is up.
Moving average (20; smoothed) – down.
CCI: -101.5654
The British pound sterling also continues to fall in price against the US currency, after the Fed meeting. True, not as fast as the euro. We have already noted more than once that in the case of the pound sterling, more factors have a bearing on the pair than in the case of the euro. There are Brexit, and the political crisis with the possible dismissal of Prime Minister Theresa May, the decisions of the Fed and the Bank of England, any comments from Donald Trump, and a trade war. Thus, it is very difficult to predict the movement of a pair even for several days ahead. Today, September 28, from the scheduled reports, there are really few important ones. In Britain, GDP will be released in the second quarter, and in the States, personal income and expenses of Americans. All. However, any information on Brexit topics, the trade war between the States and China can cause a surge of emotions in the market. Predicting the appearance of such information is almost impossible. If the last trading day of the week does not come as a surprise, then in the second half of the day, short positions can be closed due to the desire of traders to leave for the weekend with closed deals, at least in part. It will be possible to identify the beginning of the correction by turning the Heikin Ashi indicator up.
Nearest support levels:
S1 – 1.3062
S2 = 1.3031
S3 – 1,3000
Nearest resistance levels:
R1 = 1.3092
R2 = 1.3123
R3 – 1.3153
Trading recommendations:
The currency pair GBP / USD continues not too strong downward movement, as indicated by the blue bars Heikin Ashi. Thus, before the reversal of this indicator, it is recommended to support shorts with targets of 1.3031 and 1.3000.
It is recommended to open long positions no earlier than traders overcome the moving average line. In this case, the tendency for the instrument to change to an upward trend, and the target for the upward movement will be the level of 1.3184.
In addition to the technical picture, one should also take into account the fundamental data and the time of their release.
Explanations for illustrations:
The upper channel of linear regression is the blue lines of unidirectional motion.
The junior channel is linear-violet lines of unidirectional motion.
CCI – the blue line in the regression window of the indicator.
Moving average (20; smoothed) – the blue line on the price chart.
Levels of Murray – multi-colored horizontal stripes.
Heikin Ashi is an indicator that color bars in blue or purple.
The material has been provided by InstaForex Company – www.instaforex.com

[ad_2]

Source link