GBP / USD. 6th of September. The trading system "Regression channels". The effect of rumors and crowds sent the pound sterling
[ad_1]

4-hour timeframe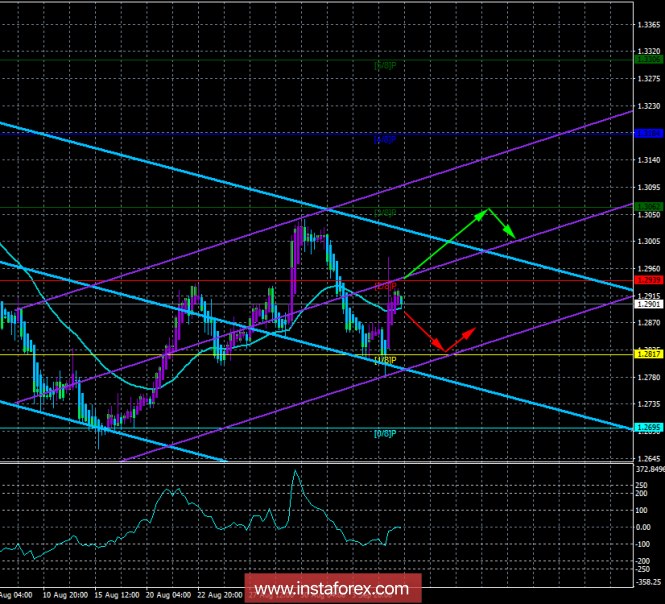 Technical data:
The senior channel of linear regression: direction – down.
The younger channel of linear regression: the direction is up.
Moving average (20; flattened) – sideways.
CCI: -5.3233
The currency pair GBP / USD on Wednesday, September 5, surprised for the second time in a few weeks it's absolutely illogical reaction to rumors and speculation. Recall that a week ago, there was unconfirmed information that the EU was preparing "unprecedented" conditions for Brexit for Britain. What is the essence of this super-proposal? No one knows until now. But then, the pound sterling has strongly strengthened. However, the very next day, traders began to get rid of the British currency, as there was no confirmation of this super-offer in the media. What happened yesterday, strongly recalls the events with Michel Barnier. Information that Germany and the UK agreed on the terms of Brexit, looks, to put it mildly, questionable. But even if this is true, until the official information is received, which clearly specifies what concessions the parties have made, how the key issues will eventually be resolved, the expediency of buying pound can be justified only by the rule "Buy on the rumors". We believe that today, the pound can again rush down, like a week ago, unless, of course, this information is officially confirmed. Theresa May, by the way, yesterday said that the second referendum will not be exactly, and she herself is preparing a new version of the "Brexit plan", which will work for the benefit of Great Britain.
Nearest support levels:
S1 = 1.2817
S2 – 1.2695
S3 – 1,2573
Nearest resistance levels:
R1 = 1.2939
R2 = 1.3062
R3 = 1.3184
Trading recommendations:
The currency pair GBP / USD fulfilled the level of 1.2939 and could not overcome it. Thus, if the bulls manage to gain a foothold above this level, then it will be possible to open the buy-positions with the target of 1.3062.
Orders for sale can be considered only after fixing the price back below the removals for Murray's level "1/8" – 1,2817, which has already been worked out. In this case, the initiative will return to the hands of the bears.
In addition to the technical picture, one should also take into account the fundamental data and the time of their release.
Explanations for illustrations:
The upper channel of linear regression is the blue lines of unidirectional motion.
The junior channel is linear-violet lines of unidirectional motion.
CCI – the blue line in the regression window of the indicator.
Moving average (20; smoothed) – the blue line on the price chart.
Levels of Murray – multi-colored horizontal stripes.
Heikin Ashi is an indicator that color bars in blue or purple.
The material has been provided by InstaForex Company – www.instaforex.com

[ad_2]

Source link