GBP / USD. October 10th. The trading system "Regression Channels". The British Parliament is preparing to vote on the Brexit
[ad_1]

4-hour timeframe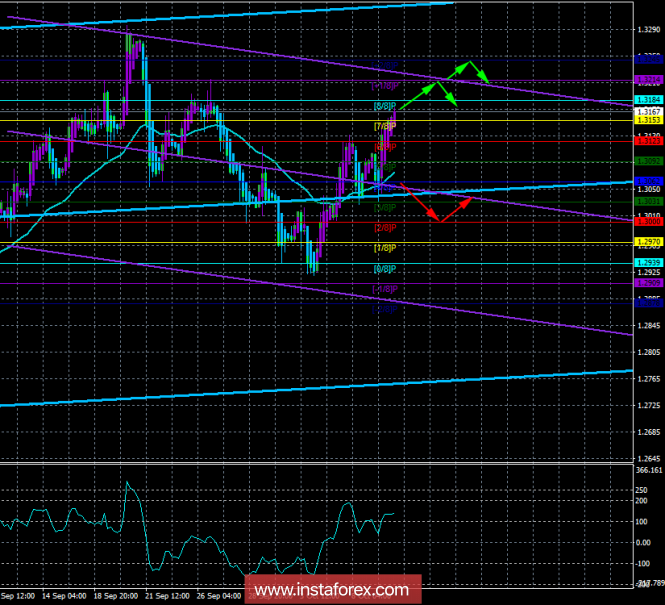 Technical data:
The senior linear regression channel: direction – up.
The younger linear regression channel: direction – up.
Moving average (20; smoothed) – up.
CCI: 137.1769
The currency pair GBP / USD on October 10 continues to move up exclusively on rumors and expectations. In the near future, the UK will take a vote on the so-called plan "Checkers". This plan was developed by Theresa May and does not yet find support either in the European Union or within the British Parliament. Thus, it is likely that the vote will fail. The UK thus remains in limbo. There are two options: either vote for Theresa May's plan or leave the EU without a "deal". As the information comes from the political sphere of the Kingdom, both options do not suit the majority. Thus, it is even difficult to imagine what exactly the whole story will end with the UK leaving the EU. Moreover, the main negotiators on both sides regularly feed the markets with information that the negotiations are successfully moving forward and the parties are gradually approaching consensus. However, it is not reported on which concessions the parties make. Therefore, all this information looks unconvincing, which makes one doubt the successful outcome of the negotiations between London and Brussels. Traders continue to buy pounds, waiting for success in the negotiations. If the negotiations fail (until November there is not much time), it can put a lot of pressure on the pound sterling and send it to a new long downward rally.
Nearest support levels:
S1 – 1.3153
S2 – 1.3123
S3 – 1.3092
Nearest resistance levels:
R1 – 1.3184
R2 – 1.3214
R3 – 1.3245
Trading recommendations:
The currency pair GBP / USD continues to move up, as indicated by the purple bars. Thus, it is now recommended to continue to remain long positions with targets at 1.3214 and 1.3245 until Heikin Ashi turns down.
Sell positions will become relevant again only after the price is fixed below the moving average. This can happen if the market receives negative information about the negotiations on Brexit, and the pair may begin to form a new downtrend.
In addition to the technical picture should also take into account the fundamental data and the time of their release.
Explanations for illustrations:
The senior linear regression channel is the blue lines of the unidirectional movement.
The lower linear channel is the purple lines of unidirectional movement.
CCI is the blue line in the indicator regression window.
The moving average (20; smoothed) is the blue line on the price chart.
Murray levels – multi-colored horizontal stripes.
Heikin Ashi is an indicator that colors bars in blue or purple.
The material has been provided by InstaForex Company – www.instaforex.com

[ad_2]

Source link