GBP / USD. October 9th. The trading system "Regression Channels". The pound resumed growth on favorable market expectations
[ad_1]

4-hour timeframe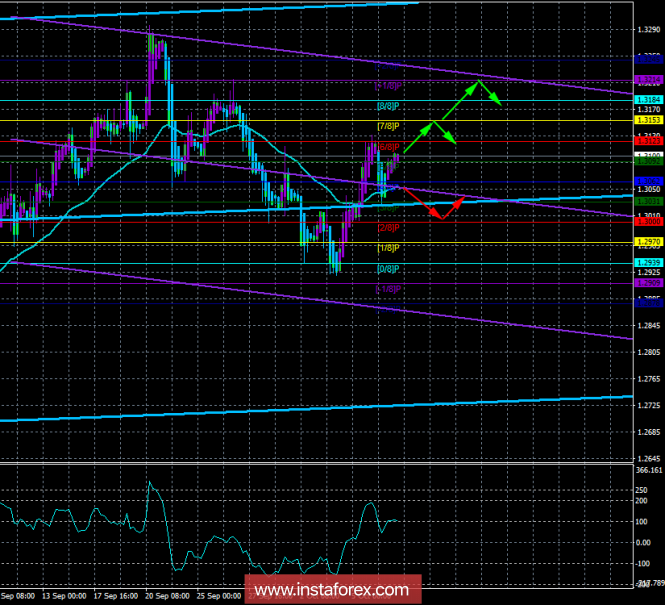 Technical data:
The senior linear regression channel: direction – sideways.
The younger linear regression channel: direction – down.
Moving average (20; smoothed) – up.
CCI: 91.0831
The currency pair GBP / USD on October 9 adjusted to the moving average line and bounced off it, resuming the upward movement. Thus, the correlation between the euro and the pound is now extremely low, and traders seem to still see in the "insider" information hints at the successful promotion of negotiations between the EU and the UK on Brexit, which provokes buying the pound sterling, while very restrained. We still believe that even if negotiations, according to Michel Barnier, have moved to the final stage, there is still no official information on this matter. Thus, the markets are not aware now of what agreements have been reached between London and Brussels. Accordingly, traders respond only to the expectations of a successful "divorce" of the EU and Britain with a "deal". As absolutely everything was already understood, the absence of a "deal" would be extremely disadvantageous to both parties, but especially to Britain. Moreover, within the UK itself, disputes continue over the May plan for exit from the EU. Very few politicians support him, moreover, there was even talk of dismissing Theresa May from the post of prime minister of the country. Nevertheless, despite these conversations, both sides, not without a share of bluffs, continue to argue in advancing the negotiations, and they seem to have even agreed on certain points concerning the border between Northern Ireland and Ireland.
Nearest support levels:
S1 – 1.3092
S2 – 1.3062
S3 – 1.3031
Nearest resistance levels:
R1 – 1.3123
R2 – 1.3153
R3 – 1.3184
Trading recommendations:
The currency pair GBP / USD has rebounded from the MA and is ready to continue the upward movement. Thus, before turning Heikin Ashi down, it is recommended to trade for a raise with targets at 1.3123 and 1.3153.
It is recommended to return to sell orders after traders have overcome a moving average line. In this case, the target for trading for a fall will be Murray levels of 1.3000 and 1.2970.
In addition to the technical picture should also take into account the fundamental data and the time of their release.
Explanations for illustrations:
The senior linear regression channel is the blue lines of unidirectional movement.
The lower linear channel is the purple lines of the unidirectional movement.
CCI is the blue line in the indicator regression window.
The moving average (20; smoothed) is the blue line on the price chart.
Murray levels – multi-colored horizontal stripes.
Heikin Ashi is an indicator that colors bars in blue or purple.
The material has been provided by InstaForex Company – www.instaforex.com

[ad_2]

Source link