GBP / USD pair for August 24. Trading system "Regression channels". No "deal" – losses of 80 billion pounds
[ad_1]

4-hour timeframe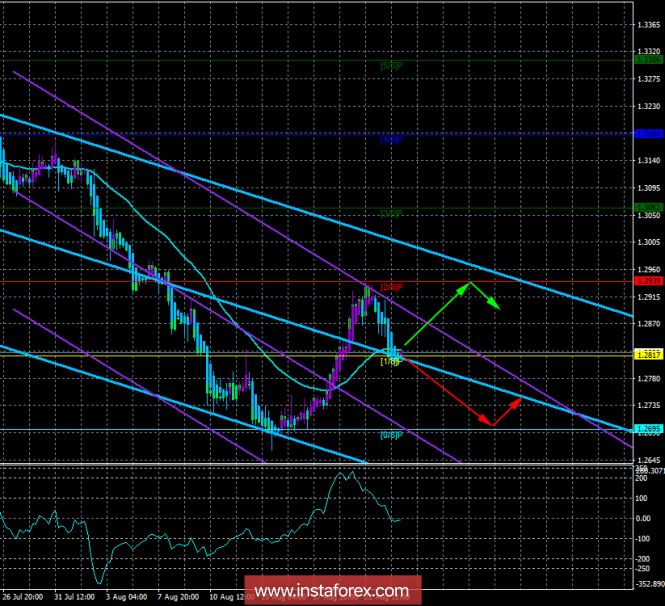 Technical data:
Senior channel of linear regression: direction – down.
The younger channel of linear regression: direction – down.
Moving average (20; flattened) – sideways.
CCI: -4.6308
Unlike the euro major pair, the GBP/USD currency pair was fixed below the moving average line. This point is very noteworthy, as it means that the positions of the British pound sterling are still extremely weak. At the moment, the trend for the instrument has changed to a downward trend and shorts have become actual. As mentioned earlier, the exit of the UK from the EU without a deal will be a strong blow to the country's economy. Yesterday, the UK's Minister of Economy Philip Hammond called a specific figure in the absence of a "deal", Britain will incur an $ 80 billion loss. Hammond also noted that this would be a serious blow to the standard of living of the citizens of Foggy Albion. Thus, the situation is a stalemate. Agreeing with the EU does not work, the deadline for negotiations expires in October, in the absence of a "deal" Britain will suffer huge losses, which will further put pressure on the pound sterling. Although, as we all see, the British currency is still suffering serious losses amid expectations of the market that it will not be possible to agree with Brussels. From a technical point of view, everything is on the side of the American currency. If traders manage to return above the removals, then the British pound will have another chance to gain some ground, but long-term prospects for the currency of the UK still remain very sad.
Nearest support levels:
S1 = 1.2817
S2 – 1.2695
S3 – 1,2573
Nearest resistance levels:
R1 = 1.2939
R2 = 1.3062
R3 = 1.3184
Trading recommendations:
The GBP / USD pair overcame the removals. Thus, it is now recommended to open a sell order with a target of 1.2695. The signal to the manual closing of short positions will be the color of 1-2 bars indicator Heiken Ashi in purple.
Again, long positions are recommended only after the bulls overcome the moving average line with a target of 1.2939. From a fundamental point of view, this option is less likely than a further drop in the pound.
In addition to the technical picture, one should also take into account the fundamental data and the time of their release.
Explanations for illustrations:
The upper channel of linear regression is the blue lines of unidirectional motion.
The junior channel is linear – violet lines of unidirectional motion.
CCI – the blue line in the regression window of the indicator.
Moving average (20; smoothed) – the blue line on the price chart.
Levels of Murray – multi-colored horizontal stripes.
Heiken Ashi is an indicator that color bars in blue or purple.The material has been provided by InstaForex Company – www.instaforex.com

[ad_2]

Source link