GBP / USD pair for September 11. Trading system "Regression channels". The pound goes up again on positive expectations
[ad_1]

4-hour timeframe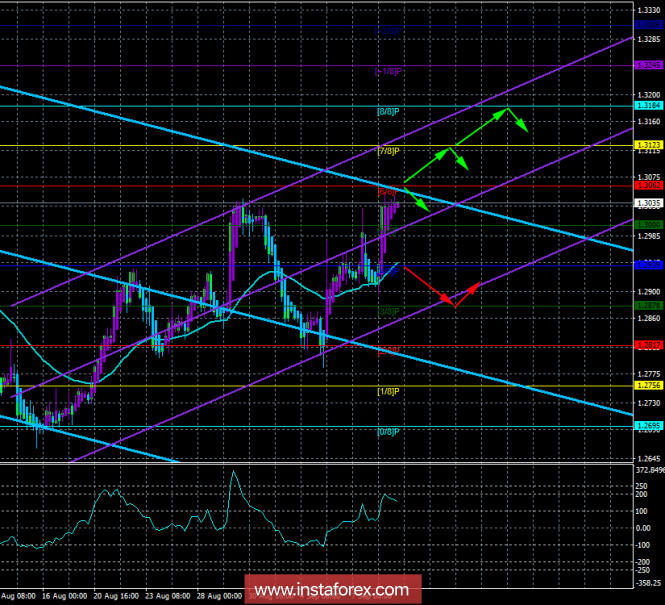 Technical data:
Senior channel of linear regression: direction – down.
The younger channel of linear regression: the direction is up.
The moving average (20; flattened) is up.
CCI: 173.3570
On September 10, the GBP / USD currency pair rose against the US currency. There were several reasons for this. The first is a scandal in the White House, of which we have already written. The second is Michel Barnier's speech in Bled, during which he stated that Brexit agreement can be reached within 6-8 weeks. This news was perceived by traders as a positive signal. From our point of view, this is another rumor and hope for a favorable outcome of the whole epic with the UK's withdrawal from the EU. In fact, Barnier just expressed the hope that everything will be decided before November. This does not mean that the parties have already agreed or are close to an agreement. Thus, nothing positive for Britain and the pound did not happen. But the topic with another scandal around Donald Trump provided his development lead to a long decline in the US currency and growth of competitors accordingly. This is what Trump wants – to divert public attention from the topic of trade policy and focus on some scandal. With this, he can kill two birds with one stone.
On the one hand, to continue the introduction of necessary trade duties, reducing the likelihood of strengthening the US dollar against this background. On the other hand, it is to raise doubts about the market about the inviolability and stability of the United States in political terms, which will cause a decline in demand for the dollar. Today, we recommend paying attention to the publication of average wages and applications for unemployment benefits in the UK.
Nearest support levels:
S1 – 1,3000
S2 – 1.2939
S3 – 1.2878
Nearest resistance levels:
R1 = 1.3062
R2 = 1.3123
R3 = 1.3184
Trading recommendations:
The GBP / USD pair resumed the upward movement and fulfilled the level of 1.3062. Thus, since there are no signals to the beginning of the correction, long positions can be held for the purpose of 1.3123. Turning downward the Heiken Ashi will indicate the turn of the corrective movement.
It is recommended to consider selling orders after fixing the price below the moving average, which is unlikely to happen today. Nevertheless, when fastening below the removals, shorts with a target of 1.2878 will become actual.
In addition to the technical picture, one should also take into account the fundamental data and the time of their release.
Explanations for illustrations:
The upper channel of linear regression is the blue lines of unidirectional motion.
The junior channel is linear-violet lines of unidirectional motion.
CCI – the blue line in the regression window of the indicator.
Moving average (20; smoothed) – the blue line on the price chart.
Levels of Murray – multi-colored horizontal stripes.
Heiken Ashi is an indicator that color bars in blue or purple.The material has been provided by InstaForex Company – www.instaforex.com

[ad_2]

Source link