GBP / USD. The 4th of October. The trading system "Regression Channels". May's new performance lowers the pound again
[ad_1]

4-hour timeframe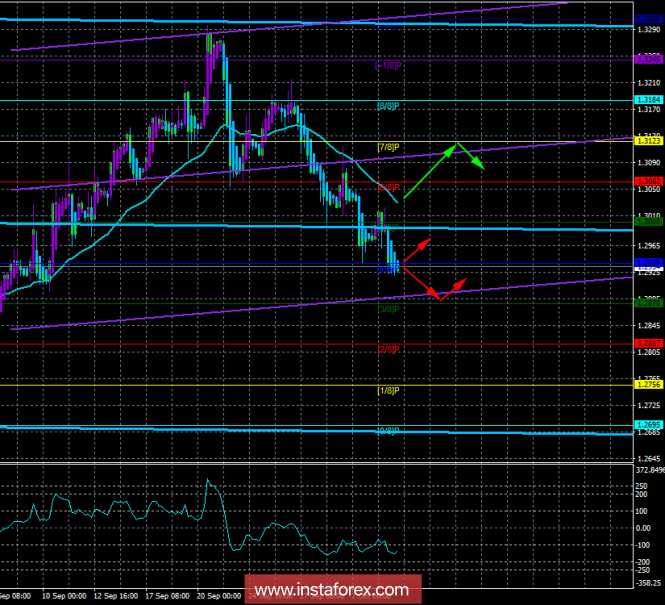 Technical data:
The senior linear regression channel: direction – sideways.
The younger linear regression channel: direction – up.
Moving average (20; smoothed) – down.
CCI: -121.8195
The currency pair GBP / USD on October 4 continues its downward movement. The demand for the US currency is already quite high now, but the pair is also falling down due to regularly received information on the Brexit topic. Theresa May spoke yesterday and said that the UK is not afraid to withdraw from the EU without a "deal". According to her, there are politicians who believe that it is necessary to exclude the option of Brexit without a "deal" with the EU. However, May believes that such a position would weaken the UK in negotiations with Brussels. Also, traditional for such speeches were the words that "you need to unite in such a difficult time" that "the life of the British should not become worse after Brexit". However, all experts understand that if there is no deal, then life will become worse. The UK is already losing $ 500 million each week due to Brexit, which has not even been completed yet. The absence of a "deal" will lead to the introduction of a number of duties at the borders and reduce the investment attractiveness of the UK. In general, May was in a stalemate. Her support is deteriorating every day, and even within her own party, there are already enough politicians who are dissatisfied with her actions. Against the background of such a development, it is not surprising that the pound continues to decline.
Nearest support levels:
S1 – 1,2939
S2 – 1,2878
S3 – 1.2817
Nearest resistance levels:
R1 – 1.3000
R2 – 1.3062
R3 – 1.3123
Trading recommendations:
The currency pair GBP / USD resumed its downward movement after a slight correction. Thus, the short positions remain relevant for the purpose of Murray's level "3/8" – 1.2878. Heikin Ashi's upward reversal will serve as a signal to reduce short positions.
Buy positions are recommended to be considered if traders overcome the moving average. In this case, the bulls may again try to form an uptrend, although taking into account the fundamental component, it will be quite difficult to implement.
In addition to the technical picture should also take into account the fundamental data and the time of their release.
Explanations for illustrations:
The senior linear regression channel is the blue lines of unidirectional movement.
The lower linear channel is the purple lines of unidirectional movement.
CCI is the blue line in the indicator regression window.
The moving average (20; smoothed) is the blue line on the price chart.
Murray levels – multi-colored horizontal stripes.
Heikin Ashi is an indicator that colors bars in blue or purple.
The material has been provided by InstaForex Company – www.instaforex.com

[ad_2]

Source link