Global macro overview for 13/08/2018
[ad_1]

In the statement released this morning, the Turkish monetary authorities have announced the announcement of several activities that have one goal – to calm the situation around the domestic banking system and restore confidence in the lira. The Central Bank of the Republic of Turkey announced, among others, providing the liquidity needed by commercial banks, changing the security requirements deposited with the central bank and preferential terms for entering into repo transactions.
In addition, the reserve requirement criteria have been reduced – this means that commercial banks will be able to use part of the funds that were previously "frozen" at the central bank. The central bank estimates that its decision will release 10 billion liras, 6 billion dollars and the equivalent of 3 billion stored in gold (in Turkey, commercial banks could declare some of their mandatory reserves in gold, in which they are an important player on the local market).
In addition, the Turkish central bank undertook to mediate in currency operations concluded by commercial banks and announced that the limit of foreign currency deposits in the amount of USD 50 billion may be increased: "The central bank will closely monitor the market situation and price developments. All necessary measures will be taken to ensure financial stability" – we read in the statement. However, what is important, the central bank of Turkey has not decided to raise interest rates. This fact can be associated with the unorthodox approach of Erdogan himself to this issue – in recent months, the Turkish monetary authorities have "raised rates so that the president would not see it".
President Erdogan, who spoke in Ankara, said that in his opinion "Turkey was the victim of a conspiracy," but his country "will not give up and will not lose the economic war." The Turkish leader also announced that "the exchange rate will return to economic fundamentals". The Turkish leader again threatened the United States, announcing that if the tension on the Washington-Ankara line is not alleviated, then "Turkey will look for new markets, new partners and new allies."
Let's now take a look at the USD/TRY technical picture at the daily time frame. The central bank's message came to the market in the first hours of Monday trading, when the Turkish lira was still much shaky. It's enough to say that the new week started with the USD/TRY rate above 7.00 – for comparison, on Friday morning one dollar cost just over 5 liras. In the following hours the situation remained dynamic, the rate temporarily fell below 6.50 TRY, then turn back towards seven and again go down to 6.65.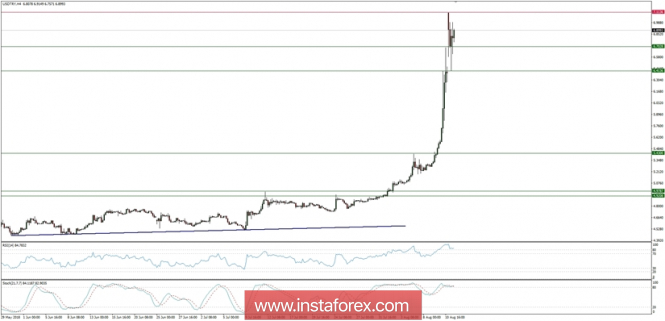 The material has been provided by InstaForex Company – www.instaforex.com

[ad_2]

Source link