Global macro overview for 23/07/2018
[ad_1]

Iran's supreme spiritual leader Ayatollah Ali Chamenei supported the stance of President Ali Rowhani, who suggested that if Iran's oil exports were halted, Iran would block oil exports from the Gulf countries. He also stated that negotiations with the United States would be a "manifest error".
Earlier in July, Rowhani, in response to Iran's US sanctions and US efforts to force all countries to stop buying Iranian oil, threatened to block any oil supplies from neighboring countries. "If oil from Iran will not be exported, no country in the region will export it and would be an important statement that reflects the policy and position of the system prevailing in Iran" – we can read on an official website of Chamenei. In the past Iran threatened to block the Strait of Ormuz on the main oil export route from the region as part of retaliation for US operations.
"Negotiating would be an obvious mistake because you can not rely on Washington" – added on the Ayatollah website. His opinion is the last word on all the important issues of the Iranian state, and publicizing the position of Chamenei is intended to discourage open opposition to the threat formulated by Rowhani.
Chamenei also expressed support for continuing talks with European partners in Iran who are preparing a package of economic measures to counterbalance the withdrawal of the US from a nuclear agreement: "Negotiations with the Europeans should not be stopped, but we should not just wait for the European economic package, but continue the necessary actions in the country," Chamenei said.
As a result of new US sanctions, which put oil markets at enormous strain in the face of supply disruptions in other parts of the world, Iran's oil exports may fall by two thirds by the end of this year. Earlier this month, France announced that it is unlikely that European countries would be able to jointly create an economic package for Iran. The situation is getting tenser and the Oil price will start to react violently to any news regarding this situation.
Let's now take a look at the Crude Oil technical picture at the H4 time frame. The H4 Doji candle clearly signals the reverse of the positive sentiment and a gap down confirms the current outlook for oil. The bulls might now try to bounce the price towards the level of 69.24 in order to fill the gap down, but the sequence of lower highs and lower lows indicate an ongoing short-term corrective pull-back in progress, that might even end up as a trend reversal. In order to do this, the bear camp has to break below the level of 67.00 and head towards the key technical support at the level of 63.30.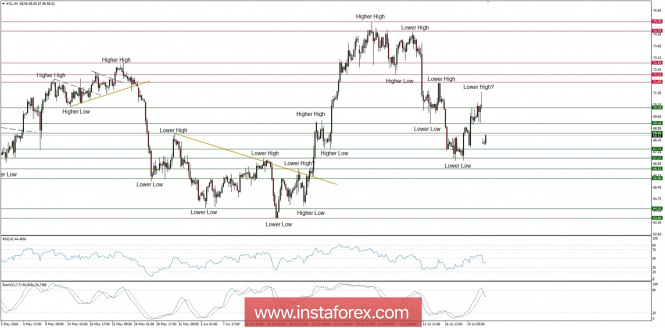 The material has been provided by InstaForex Company – www.instaforex.com

[ad_2]

Source link