Global macro overview for 28/09/2018
[ad_1]

The American Fed dealt very gently with the markets, but the Euro did not take advantage of this opportunity. Yesterday, the emerging markets currencies were affected by recurring concerns about the condition of public finances in Italy. The budget adopted by the government assumes a considerable increase in the deficit, and this heralds problems.
Concerns about the economic and political situation in Italy could be felt already in the spring, when the election won the Five Stars Movement and after a long political fair established a toxic coalition with the League, which was still with the same Silvio Berlusconi. These fears eased somewhat, the markets hoped that the rulers, after moving from the campaign stage to the stage of exercising power, would come down somewhat to the ground and respect the efforts made so far towards stabilizing the fiscal situation. Especially that the technocrat Giovanni Tria was appointed Minister of Economy, who spoke about the need to limit debt in relation to GDP.
In the end, however, political needs have prevailed. Because the parties have voters in different parts of the country, the budget ultimately puts in a minimum income, withdrawal from raising the retirement age, cutting taxes and a higher minimum wage. Meaning, at the same time, an increase in spending and a drop in income. The deficit, which was supposed to fall below 1% of GDP next year, is now planned at 2.4%. These numbers, however, do not reflect the essence of the problem. Italy is nominally the most indebted economy in Europe. In relation to GDP, debt is only higher in Greece. At the same time, although the increase is not spectacular, the economic situation is at the top of the decade. A possible slowdown, especially as a result of external shock (such as the 2008 crisis) would result in a deficit explosion and possibly an uncontrolled increase in public debt. From the point of view of long-term prospects, such a social budget is the last thing that the Italian economy, suffering from a chronic decline in competitiveness, needs. The Italian budget has yet to be adopted by the parliament, but for now, the issues are not going in the right direction, especially as the conflict with the European Commission seems inevitable.
Let's now take a look at the EUR/USD technical picture at the H1 time frame. As a result, despite the good sentiment in the global markets and the positive surprise of inflation in Germany, the EURUSD pair sharply dived and remains under pressure from sellers today. The next technical support at the level of 1.1565 has been almost hit (5 pips miss) and a little bounce is being developed now. The local technical resistacne at the level of 1.1627 should cap all the bullish attempt to rally higher. Please notice the momentum indicator is still below its fifty level, so all the bounces in price will be used by bears to sell for a better price.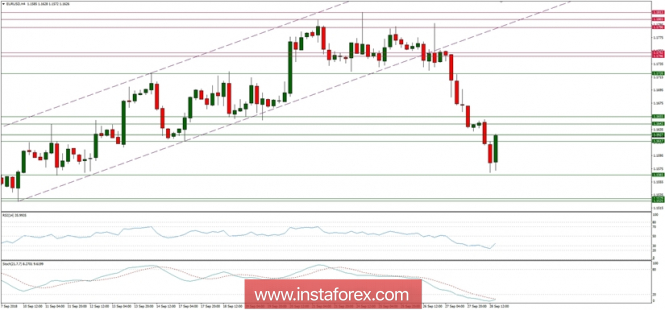 The material has been provided by InstaForex Company – www.instaforex.com

[ad_2]

Source link