Investors closely follow developments in Turkey and Italy
[ad_1]

The European currency continued to trade in a narrow price range, as well as other risky assets despite the lack of important fundamental statistics. Many traders and investors were focused on the trade struggle between Turkey and the United States, as well as on the political problems in Italy, where the new government prepares for the budget approval of the country which is likely to go against the standards set by the European Central Bank.
After statements made by Donald Trump last week, the Turkish president did not stand aside and attacked the White House administration's actions. Recep Erdogan said that some people are engaged in economic terrorism through social networks, which is treason, adding that those who do such act will be punished. The head of Turkey also drew attention to the fact that the fundamental macroeconomic indicators are currently strong, and the US actions attempted to strike Turkey in the back by means of duties will not achieve their goal.
It should be noted that at the end of last week, Trump expressed a desire to double the tariffs on the imported goods from Turkey, saying that relations with Ankara cannot be considered positive. The White House administration expects that duties on aluminum imports from Turkey will be 20%, and 50% on steel.
Meanwhile, the Turkish lira continued its decline and fell another 8% against the US dollar despite all the statements of the Turkish president. The actions of the Turkish central bank failed to calm investors. Overall, the lira fell by more than 40% this year.
Raw currencies ignored fundamental statistics on the Chinese economy.
It was published yesterday that the indicator of China's money supply M2 in late July showed an increase of 8.5% compared with the same period in 2017. While economists had expected growth of 8.2%.
There was also an increase in lending. In general, China's financial institutions in July this year issued new loans amounting to 1.45 trillion yuan, while economists predicted that the figure will be 1.275 trillion yuan.
Weak data from the National Bureau of Statistics of China is predicted to slow down the business activity growth in China, which was another alarming call for investors. This suggests that the Chinese economy continues to face problems amid the aggravation of the US trade conflict.
Chinese retail sales in in July rose, which neutralized the weak data on business growth. According to the report, retail sales increased by 8.8% compared to the same period last year. Economists forecast sales growth of 9.0%.
China's industrial production in July also increased by 6.0% compared to the same period last year, while economists forecast an increase of 6.4% in the reporting period.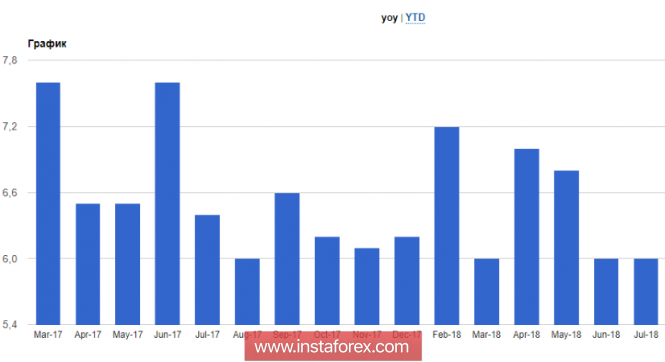 * The presented market analysis is informative and does not constitute a guide to the transaction.
The material has been provided by InstaForex Company – www.instaforex.com

[ad_2]

Source link