Limited growth potential of the pound
[ad_1]

In the afternoon, data came out that did not exert significant pressure on the British pound and was generally ignored by the market. The bullish trend, which was formed earlier this week, is gradually slowing down and dying out, and the return of the trading instrument to certain levels of support may negatively affect the further corrective perspective.
According to the National Bureau of Statistics of Great Britain, the pace of borrowing the public sector in the first four months of the financial year has slowed significantly, which may affect the prospects for economic growth. However, this fact will help to correct the UK budget deficit in the next few years.
The net borrowing of the UK public sector in July this year fell by 2.0 billion pounds against 1.0 billion pounds a year earlier, based on the reports. Economists had expected a reduction of 0.8 billion pounds. Thus, in July 2018 the volume of repaid debt exceeded borrowing by 2 billion pounds. The net public sector demand for cash in the UK fell by 17.9 billion pounds against 1.4 billion pounds a year earlier.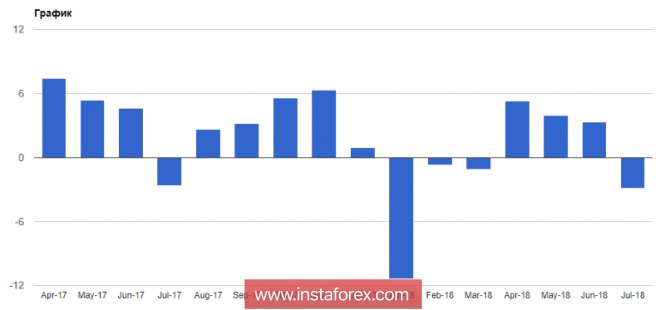 A good sign of a healthy economy is tax revenue from companies that have increased significantly compared to the same period of the previous year.
As for the technical picture of the GBP/USD pair, there is no need to expect serious growth in the near future. While the situation with Brexit will not clear up definitively and a certain trade agreement with the European Union will not be concluded, the British pound will continue to remain under pressure from the US dollar due to further interest rates increase in the US this fall. The only thing that can save the pound is similar measures on the part of the Bank of England, but everything there is not so clear.
While the trade is held above 1.2820, the demand for the pound will continue to be maintained, which allows us to count on a new wave of short-term growth in areas of 1.2890 and 1.2950. However, if the bears return to the market, the breakthrough of 1.2820 will lead to an immediate sell-off and withdrawal of large players from the market, which will crash the trading instrument in the support area of 1.2760 and 1.2690.
Returning to the topic of Chinese measures to support its economy and stimulate its growth, it should be noted that yesterday the State Council of China decided to meet halfway business, which consists 60% of the economy.
The message says that the government will soon strengthen the support of not only large companies but small businesses and those that have limited access to the credit banking system.
The material has been provided by InstaForex Company – www.instaforex.com

[ad_2]

Source link