Technical and Apple stock technical analysis on June 15, 2017 year (Demo)
4-hour timeframe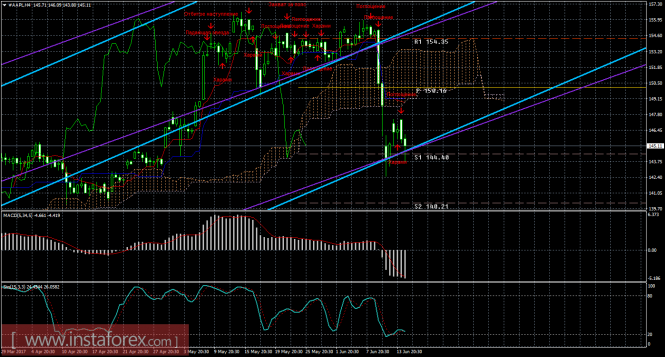 15-minute timeframe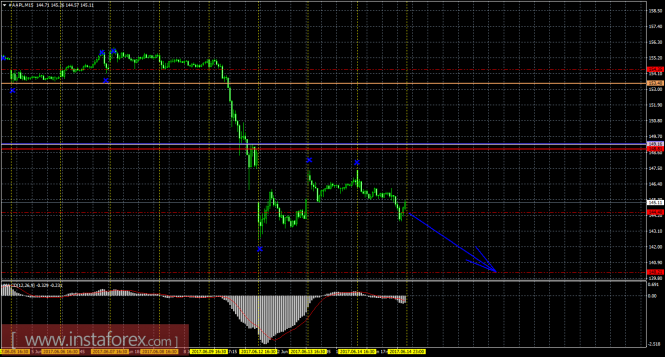 The technical picture:
Analyzing Apple's shares on June 15, shows that price can resume the downward movement after a brief upward correction. The current "dead cross" is a strong (since the price is below the clouds), so shorts indicator ishymoku makes available for opening. Both the linear regression channel geared up, so the short positions are not relevant to this topic. The purpose for the downward movement of the tool is the first level of 144.40 support that has already been achieved. In the case of overcoming this target, aim will serve the support level of 140.21. A new bearish absorption model, which signals the possible completion of the correction. MACD is pointing downwards, indicating a downward movement, it spread to the top points to the new round of correction movement. Stochastic remains oversold and overbought areas between that continues to indicate an uncertain mood of market participants. Bounce rates by level of 144.40 may provoke a new correction. On the lower graph shows that price again worked the first target 144.40 and may recommence. If the price will overcome 144.40, short positions will be relevant to the purpose of the support level of 140.21. MACD reversal top will of new coil upward correction.
Trading recommendations for 4-hour timeframe:
Apple stock price can complete the correction. The current schedule is not recommended now consider any position, since both channels sent up, and the signal from the Ichimoku-signal to sell.
Trading recommendations for 15-minute timeframe:
The 15-minute chart it is recommended to consider a sell order with a view to 140.21 pinning prices below 144.40 order, Stop Loss above 144.40 and when sent down MACD.
Besides the technical picture, it is important to consider the fundamental reports and time of their release.
It is not recommended to transfer open escrow on the following trading session because of the probability of the education gap or necessarily exhibit the stop loss order.
The signals received from the candlestick patterns, the strongest when the overlap with other signals (rebound, anchoring, MACD) or require confirmation.
Explanation illustrations (Figure 1):
Indicator Ishymoku:
Tenkan-Sen-red line.
Kijun-Sen-blue line.
Senkou span a-light brown dashed line.
Senkou span b-light purple dashed line.
Chinkou span-green line.
Senior linear regression channel-blue line unidirectional traffic.
Junior linear regression channel-purple line unidirectional traffic.
MACD-the red line and the histogram with white bars in the window.
Red horizontal dotted lines, support and resistance levels.
The Stochastic indicator is blue and red dotted lines in the window.
Different candlestick combinations.
Explanation of the illustration (Figure 2):
Trading session-vertical dashed yellow lines.
Red horizontal dotted lines, support and resistance levels.
Multicolored horizontal lines-the ichimoku indicator senior timeframe.
Blue xs-Fractals.
MACD-the red line and the histogram with white bars in the window indicators. Material provided by InstaForex-www.instaforex.com
Powered by WPeMatico