Technical and candlestick analysis of shares of IBM Corporation on June 15, 2017 year (Demo)
4-hour timeframe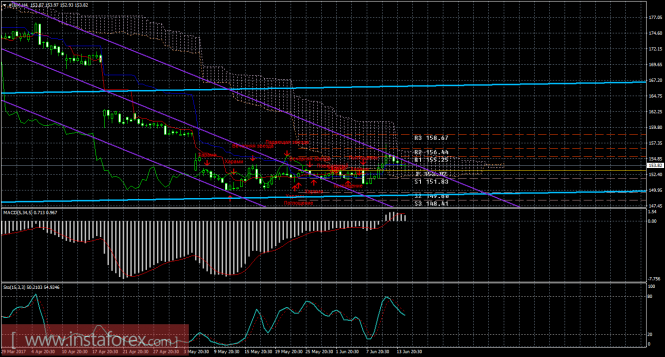 15-minute timeframe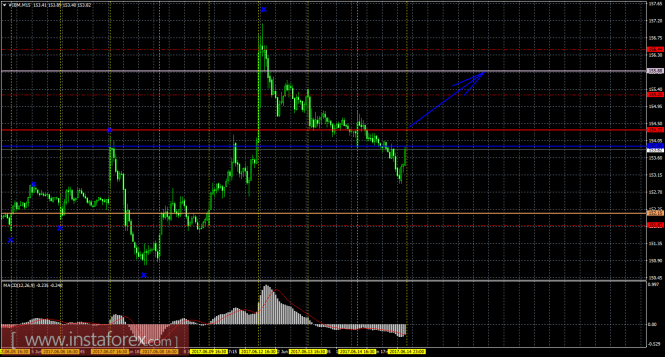 The technical picture:
Analyzing IBM stock chart, you can see that price after a rebound from a downward correction continues to 156.44 level went below kijun-Sen lines. Senior linear regression channel is aimed upward, Jr.-sent down, that allows to consider long positions in the market. The current "golden cross"-weak (because the price is positioned on the inside of ishimoku indicator), so orders to buy are not relevant to this topic. At the moment the target for ascendant motion remains the first resistance level 156.44. The next target for movement up favors 158.67. New candlestick patterns at the moment no. The MACD turned downwards, indicating the current downward movement. Spread the top indicator indicates the completion of correction. Stochastic still lies between overbought and oversold, indicating an uncertain mood in the market. On the lower graph shows that the price of the last trade session continued to be adjusted and secured below the critical lines. Thus remain relevant long positions with a view to line senkou span b If the price fixates above tenkan-Sen line.
Trading recommendations for 4-hour timeframe:
IBM'S stock price began to be adjusted, but the current schedule is still not recommended to consider neither long nor short positions as "golden cross" is weak.
Trading recommendations for 15-minute timeframe:
On minor chart it is recommended to consider orders to buy, with the aim of senkou span b (155.88) when prices above tenkan-Sen (154.33) and S/L level below 154.33 and when sent up the MACD indicator.
Besides the technical picture, it is important to consider the fundamental reports and time of their release.
It is not recommended to transfer open escrow on the following trading session because of the probability of the education gap or necessarily exhibit the stop loss order.
The signals received from the candlestick patterns, the strongest when the overlap with other signals (rebound, anchoring, MACD) or require confirmation.
Explanation illustrations (Figure 1):
Indicator Ishymoku:
Tenkan-Sen-red line.
Kijun-Sen-blue line.
Senkou span a-light brown dashed line.
Senkou span b-light purple dashed line.
Chinkou span-green line.
Senior linear regression channel-blue line unidirectional traffic.
Junior linear regression channel-purple line unidirectional traffic.
MACD-the red line and the histogram with white bars in the window.
Red horizontal dotted lines, support and resistance levels.
The Stochastic indicator is blue and red dotted lines in the window.
Different candlestick combinations.
Explanation of the illustration (Figure 2):
Trading session-vertical dashed yellow lines.
Red horizontal dotted lines, support and resistance levels.
Multicolored horizontal lines-the ichimoku indicator senior timeframe.
Blue xs-Fractals.
MACD-the red line and the histogram with white bars in the window indicators. Material provided by InstaForex-www.instaforex.com
Powered by WPeMatico