The euro area's positive balance continues to decline
[ad_1]

Despite the weak data on the euro zone's trade surplus and the performance of Fed officials who expect further interest rate hikes in the US, the European currency continues its upward trend against the US dollar, as investors believe in the determination of the European Central Bank.
According to the report of the EU statistics agency Eurostat, the positive balance of trade in goods in the euro area in May this year again declined. The reduction in the balance is observed for the third month in a row, which is a very worrying sign for the European regulator, which is expecting a bigger economic growth in the second quarter of this year, after a disastrous first quarter.
So, the positive balance of the euro zone's trade balance in May amounted to 16.9 billion euros against 18.0 billion euros in April. Import grew significantly more than exports. Without taking into account the correction, the trade surplus in May amounted to 16.5 billion euros against 19.3 billion euros in May 2017.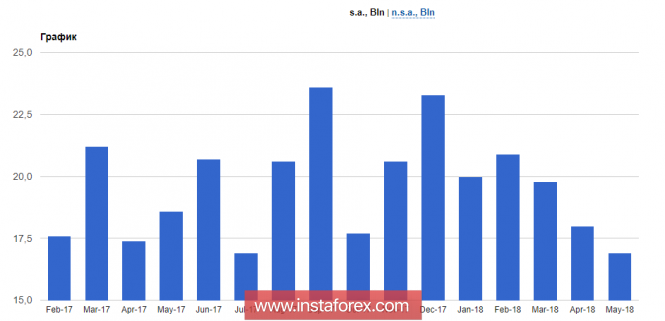 It should be recalled that the United States introduces trade duties on steel and aluminum from the EU, which will also affect the above indicators in the future.
Speech of the President of the Fed-Atlanta Bostic did not affect the quotations of the US dollar. According to the representative of the Fed, the base scenario still implies three rate hikes this year, and if the economy accelerates or slows contrary to expectations, the Fed will need additional increases. Bostik also noted that we are closely monitoring the impact of duties. Let me remind you, most recently a report appeared that indicated the decline in the confidence of US households due to the introduction of duties, which will necessarily affect the economic performance.
As for the technical picture, it remained unchanged compared with the morning forecast. It is too early to talk about the resumption of the upward trend in risky assets. Only a confident break above 1.1730 and 1.1760 will indicate a resumption of a new upward trend, which could lead to a month high at 1.1820 and 1.1890.
The economy of China is gradually losing growth themes. Such a report was provided today by the National Bureau of Statistics of China.
According to the data, the gross domestic product in China in the 2nd quarter of this year increased by 6.7% compared to the same period of the previous year after an increase of 6.8% in the 1st quarter. The data coincided with the forecasts of economists.
Good data on industrial production partly offset the weak GDP report.
Thus, industrial production in June 2018 increased by 6% compared to the same period of the previous year after an increase of 6.8% in May.
Retail sales in June compared with the same period last year increased by 9.0% after rising by 8.5% in May.
The material has been provided by InstaForex Company – www.instaforex.com

[ad_2]

Source link