The growth of instability in the world will support the dollar
[ad_1]

The Fed meeting did not bring any surprises. As expected, the regulator raised the key interest rate by 0.25%, to 2.25%, setting the range of rates from 2.00% to 2.25%.
The decision of the Central Bank was predictable and, what was important, fully integrated into the overall current strategy, which aims to smoothly cool the economy after increasing its economic growth in recent years. In addition, the Fed, in the person of its leaders, made it clear that it was waiting for another fourth increase in interest rates this year. In this situation, it was natural to assume that the US dollar should have received at least a short-term support. But that did not happen. On the contrary, it even fell locally against major currencies, though, then it played its losses.
So, what is the reason for this behavior of the US dollar? In our opinion, the main negative that is currently pressing on the local share market, as well as the dollar, are, on the one hand, statements by D. Trump that it is not necessary to raise the interest rate, giving the national economy the opportunity to grow actively. On the other hand, the political instability of the current US president and the forthcoming midterm elections to Congress, which, if the Republicans and Trump lose, can be the reason for his impeachment. In other words, the risks of political instability in the future, as well as criticism of the president regarding the actions of the Fed, fetter the dollar and returned it to the state of affairs that was noted earlier this year, when the dollar was under severe pressure.
In general, observing the situation on the markets, we believe that the growth of negativity from trade wars, Trump's intra-party struggle in the States, as well as the multiple conflicts in the world inspired by America to achieve their economic and political goals, will probably still support in general the rate of the American dollar, and its property of a currency-refuge will prevail. The Fed's promise to further raise interest rates will also be a strong help to strengthen the dollar.
Forecast of the day:
The currency pair EUR / USD fell below the strong support level on the wave of geopolitical risks in the world, as well as the Fed's desire to further raise interest rates. We expect the price to continue falling to 1.1600-20.
The AUD / USD currency pair is trading below the level of 0.7255 against the background of the Fed's firm desire to further raise interest rates, as well as the lack of progress in trade relations between the US and China. On this wave, we expect the price to fall to 0.7200, and then to 0.7165.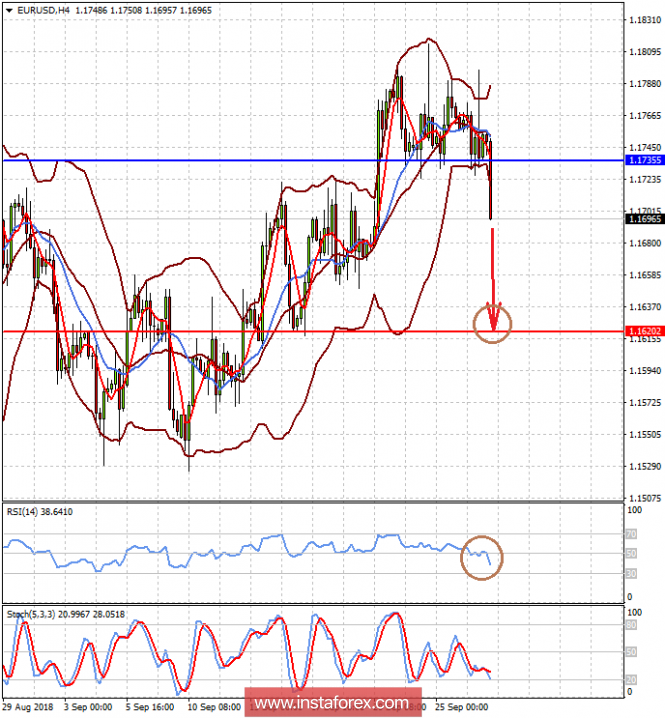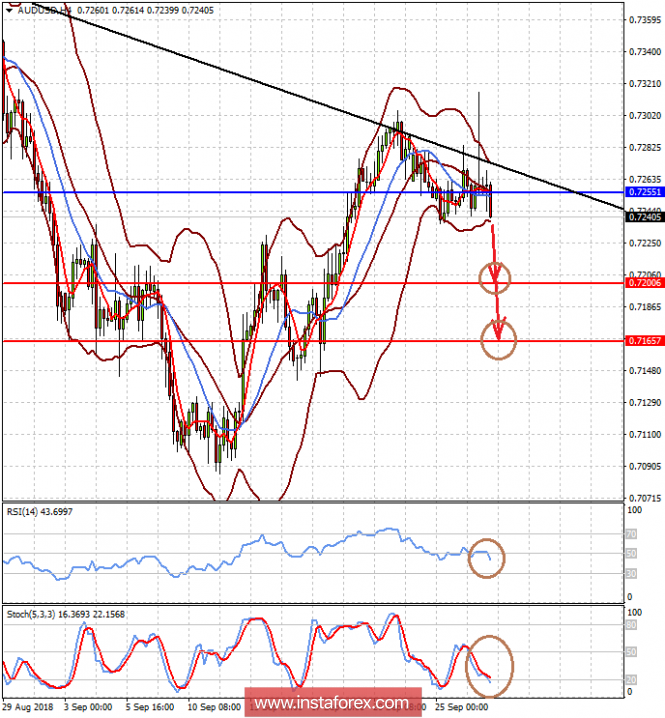 The material has been provided by InstaForex Company – www.instaforex.com

[ad_2]

Source link