The pound rose on Brexit news, euro buyers still have a chance
[ad_1]

The European currency managed to restore its position against the US dollar even after the release of a good report on the growth of the US economy in the second quarter of this year.
The British pound also rose more than 1.0% compared to yesterday's opening level for after good news related to Brexit.
The speech of US President Donald Trump in the second half of the North American session was ignored by the market. The good news is that the prospects for US-Canadian trade relations have unexpectedly improved.
The US president said that Canada wants to conclude a trade agreement. And the talks continue, as the negotiators from Canada are in the White House. Trump also said that Canada wants to be part of the new trade agreement without mentioning whether the Canadian authorities are ready to join the trade agreement that was recently concluded with Mexico, or not. It is expected that by the end of this week there will be final results, and work on the revision of the North American Free Trade Agreement will be completed.
During his speech, Trump also mentioned North Korea, saying that the US administration in this direction is all right, but further negotiations are complicated due to disagreements with China.
Data from the National Association of Realtors, released yesterday afternoon, did not affect the rate of the US dollar, even though the number of houses for sale in the US in July were contracted, fell.
According to the report, the index of signed contracts for the sale of housing fell by 0.7% compared to the previous month, to 106.2 points, while economists predicted that sales will remain unchanged. Compared to July 2017, the index fell 2.3%.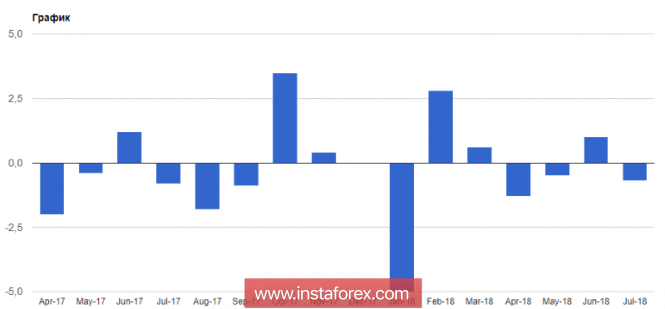 As for the technical picture of the EUR / USD currency pair, to maintain the upside potential in risky assets, a breakthrough of a large resistance of 1.1710 is required, which will lead to a new wave of growth with a test of highs of 1.1760 and 1.1800.
The British pound rose more than 1.0% yesterday after the EU's chief negotiator for Brexit, Michel Barnier, said the bloc is ready to offer Britain a profitable partnership. As Barnier noted, the conditions proposed by the UK will be individual, which will provide special advantages.
Such a statement could not be ignored by the market, since the main pressure on the pound that we observed recently was due precisely to the problems of concluding a Brexit trade agreement between the UK and the EU. The new agreement allows you to count on a scenario of a softer Brexit.
As for the technical picture of the GBP / USD currency pair, the breakthrough of the large resistance 1.3040, near which the upward trend was suspended yesterday, will lead to a new wave of pound growth with the yield already at the new monthly highs of 1.3080 and 1.3120.
The material has been provided by InstaForex Company – www.instaforex.com

[ad_2]

Source link