The services sector of the eurozone and the UK demonstrates growth
[ad_1]

Despite the good data on the service sector in the eurozone, the European currency fell paired with the US dollar amid a low volume of trading. Today in the United States, Independence Day was celebrated, and in connection with which the exchanges will be closed. This will affect both the volume and market volatility.
In the first half of the day, data came out, which indicated that the index of supply managers for the PMI service sector in Italy in June this year rose to 54.3 points against 53.1 points in may. Economists had expected the index to decline to 53.0 points.
The PMI supply managers index for the French service sector also rose in June to 55.9 points, against the May value, when PMI for the service sector was 54.3 points. The data turned out to be worse than the forecasts of economists, who were counting on growth to 56.4 points.
Similar data for Germany also did not lead to the growth of the European currency. According to the report, the index of supply managers PMI for Germany's service sector in June rose to 54.5 points against 52.1 points in May. Economists had expected PMI for the German services sector to be 53.9 points in June.
The above-mentioned good indicators had a positive impact on the overall PMI supply managers index for the eurozone services sector, which in June rose to 55.2 points against 53.8 points in May. Let me remind you that the value above 50 points indicates an increase in activity in the sector. Economists predicted the growth of the index to 55.0 points.
As for the technical picture. That it remained unchanged compared with the morning forecast.
As expected, after another unsuccessful attempt to break through the weekly highs around 1.1684, the pressure on the euro increased significantly, which led the trading instrument to the first support level of 1.1630. However, the main target is the larger levels of 1.1580 and 1.1530. Only the breakthrough of resistance 1.1680 can seriously damage the stop-orders of sellers, which will lead to a more active growth of the European currency with the renewal of the highs around 1.1730 and 1.1780.
The British pound rose against the US dollar after a good report. According to the research company IHS Markit, the index of supply managers PMI for the service sector of the country in June rose to 55.1 points from 54 points in May, which is the highest level since October 2017. Let me remind you that the index values above 50 indicate an increase in activity.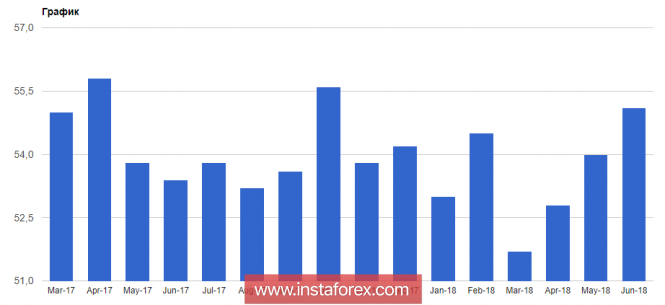 Economists at IHS Markit believe that the current growth in the service sector index could lead to an increase in quarterly GDP from 0.2% to 0.4%.
The material has been provided by InstaForex Company – www.instaforex.com

[ad_2]

Source link