The US and Mexico reached a trade agreement and are waiting for Canada
[ad_1]

After a more detailed study of the Fed Chairman's speech last Friday, investors concluded that the committee will not rush to the next interest rate hikes in the US and it's time to return to risky assets that are of more interest now than the conservative dollar. This state of affairs is reflected in the yesterday's growth of the European currency and the British pound.
Good data on the mood in business circles in Germany also supported the euro.
According to the report of the Ifo Institute, the German business sentiment index in August 2018 increased immediately to 103.8 points from 101.7 points in July. Economists predicted the growth of the indicator only to 101.9 points. As noted in Ifo, Germany's economy continues to maintain strong growth, and easing tensions between the US and Europe has led to improved business sentiment.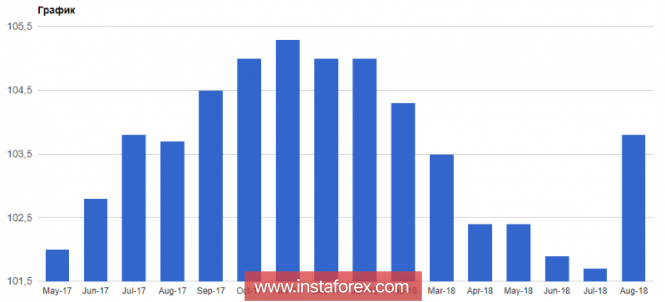 Data on the national activity index in the US exerted even more pressure on the US dollar.
According to the report of the Federal Reserve Bank of Chicago, the index of national activity in July 2018 decreased and amounted to 0.13 points against 0.48 points in June. The fall in the index was directly related to the decline in production. The moving average of the national index for three months in July fell to 0.05 points against 0.20 points in June.
Last night, there were news that the US and Mexico had reached a bilateral agreement on NAFTA. According to the White House, a new agreement between the United States and Mexico will come into force within 90 days.
It will be important to know whether Canada will want to join this trade agreement.
As US President Donald Trump noted, the talks with Canada will soon resume, and in case of Canada's refusal to join the trade agreement between the United States and Mexico, a separate agreement is possible.
Immediately after Trump, the chairman of the Economic Advisers Committee of the White House, Kudlow, said that the United States could impose duties on cars from Canada unless a trade agreement was reached, and the Canadian authorities should cooperate on a trade agreement.
As for the technical picture of the EURUSD pair, technical correction in the pair has been brewing for a long time, as indicated by a number of indicators forming a fairly large divergence. Failure to break through resistance 1.1700 could lead to a fall in the European currency against the backdrop of profit taking and a return to the 1.1625 and 1.1590 lows.
The material has been provided by InstaForex Company – www.instaforex.com

[ad_2]

Source link