The US government and China are not sitting idle
[ad_1]

The European currency and the British pound are trading in a narrow side channel paired with the US dollar, ignoring the fundamental statistics coming to the market. Apparently, this trend will likely continue until Thursday, when the results of the European Central Bank meeting will be known.
Data was released during the second half of the day on Tuesday, which showed that activity in the US service sector decreased as a result of a reduction in orders and rising prices, but remained at a fairly good level.
According to the IHS Markit report, the preliminary index of PMI supply managers for the services sector in July this year fell to 56.2 points against 56.5 points in June. Economists had expected the index to be 56.2 points. Let me remind you that the mark above 50 points indicates an increase in activity.
The manufacturing index rose to 55.5 points in July, while economists had expected it to be 55 points. In general, the composite PMI index in July fell to 55.9 points against 56.2 points in June.
The slowdown was also observed in the production activity in the area of responsibility of the Federal Reserve Bank of Richmond. According to the report, the Fed-Richmond composite manufacturing index in July 2018 was 20 points against 21 points in June.
On Tuesday, it became known that the administration of the US President Trump plans to allocate about 12 billion dollars, which will be used to assist farmers to reduce fears associated with the trade conflict. However, the market completely ignored this news, which indicates the concentration of investors at Thursday's ECB meeting.
The Chinese authorities are also not sitting idle. As it became known, the State Council of the People's Republic of China announced new measures to support economic growth. These measures include tax holidays and special bonds for investment in infrastructure projects.
As for the technical picture of the EUR/USD pair, it is clamped in a rather narrow side channel with levels of 1.1660-1.1720. A large volume of trade is underway in the middle of the 1.1685 channel, which can become a starting point for either buyers of risky assets or sellers at the ECB meeting on Thursday.
The Australian dollar fell sharply against the US dollar after Wednesday's morning inflation data did not meet economists ' forecasts. According to the report, the consumer price index CPI of Australia in the 2nd quarter of this year increased by only 0.4%, while economists had expected it at 0.5%. Compared to the same period in 2017, the consumer price index in the second quarter increased by 2.1% against the forecast of 2.2%.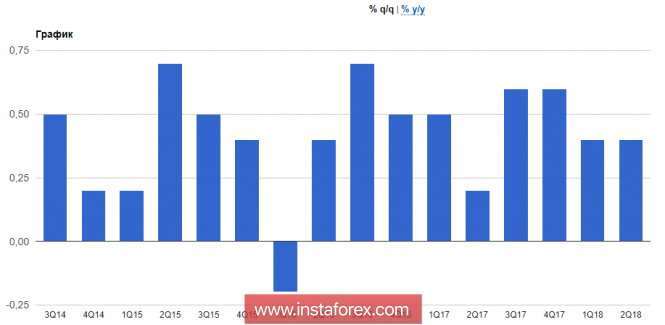 The truncated average consumer price index of the RBA in the second quarter was 0.5%.
The material has been provided by InstaForex Company – www.instaforex.com

[ad_2]

Source link