Trading plan for American session June 26 EUR/USD and GBP/USD (Demo)
EUR/USD
To open a long position on EURUSD requires:
Buyers and were unable to escape to new highs before the ECB President Mario Draghi to be held tonight. Now hope for growth of the euro in the afternoon can give back to 1.1184 level because above this area demand for EUR/USD may lead to update with 1.1205 quite possible exit to 1.1226. Given the low volatility, in case of further reduction of euros, return to purchase recommend only in the area of major support 1.1149.
To open a short position on EURUSD requires:
An abortive attempt to return to the level of 1.1184 may lead to new sales of the European currency in the afternoon. An important focus will be a statement by Mario Draghi, which can have a negative effect on the euro. The main purpose of the sellers will support 1.1149. In the case of euro growth above 1.1184, sale recommend to postpone until the new week high in 1.1226 area, as the level of 1.1205 already was cleared today in the morning.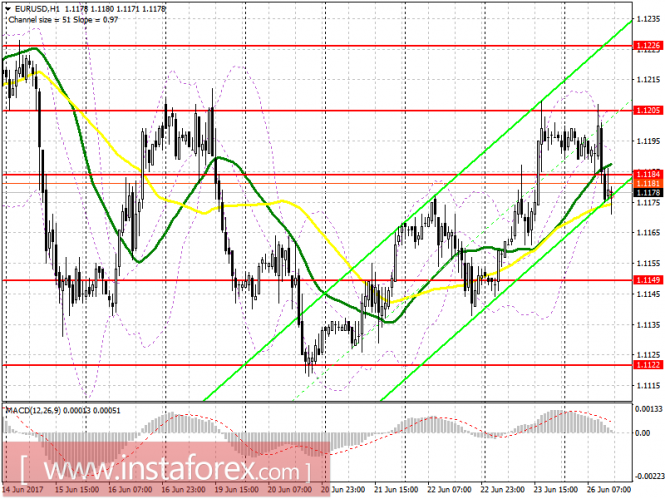 GBP/USD
To open a long position on the GBPUSD is required:
Buyers of the pound failed to catch the 1.2747-50, which led to a decline in the pound during the first half of the day. Area of support 1.2708 saves paired upward potential, and retest 1.2755 resistance may lead to breakdown and consolidate above this level with a view to strengthening further the GBP/USD to a new weekly maximum 1.2801 where I advise to take profit. In the event of a repeated return to the level of the pound 1.2708 shopping recommend to defer to new minimum 1.2754.
To open a short position on the GBPUSD is required:
Sellers today played false breakout 1.2747-50 that I advise to pay attention to his morning review that led to the decline in the pound. Currently, support is provided by level and 1.2708 descent couples in this range can lead to its breakdown and the fall of the British pound to new weekly minimums 1.2654 area. In the case of growth above, 1.2755 pound sale recommend to defer to 1.2801.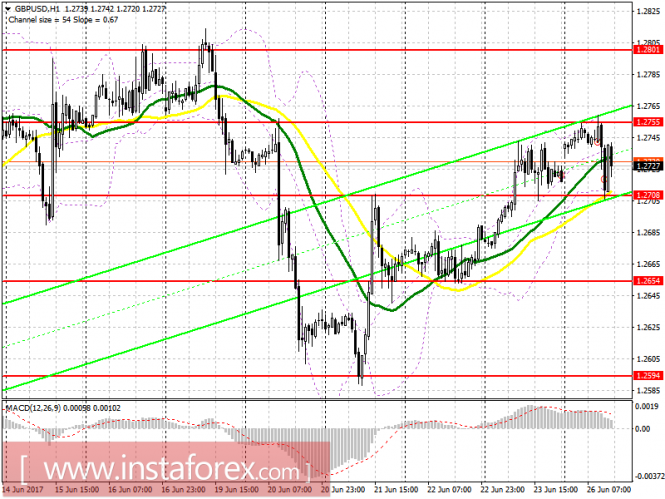 Fears of indicators
MA (moving average) 50 days-yellow
MA (moving average) 30 days-green
MACD: fast EMA 12, slow EMA = 26, SMA 9
Bollinger Bands 20
Support and resistance levels are arranged on the basis of market volumes. To learn more about my trading system blog.
Material is provided by InstaForex-www.instaforex.com