Traders ignore weak data on Germany
[ad_1]

The euro is gradually strengthening its positions against the US dollar, forming an upward correction, which was necessary after the fall that has been observed throughout the past week. Traders ignored weak data on the German economy, which also indicates only a technical correction in the trading instrument, rather than real purchases from institutional players.
According to the report of the Ministry of Economy, industrial production in Germany for the month of June this year fell sharply compared with May. The fall was mainly due to a reduction in the construction sector.
Thus, industrial production in June fell by 0.9% compared with May, while economists expected a reduction of only 0.4%. Compared with June last year, industrial production grew by 2.5%.
Meanwhile, the ministry expects that the growth in production in Germany will continue at a moderate pace.
Germany's exports in June remained unchanged compared to May, which is a negative signal indicating an increase in tensions in trade relations between the EU and the US.
According to the Federal Bureau of Statistics of Germany, exports remained unchanged, while Germany's imports grew by 1.2% in June compared to the previous month. The positive balance of Germany's foreign trade in June fell to 19.3 billion euros from 20.4 billion euros in May.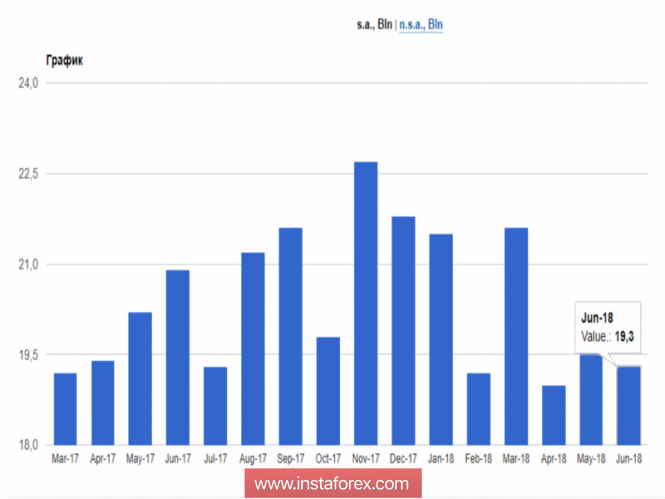 Today, it became known that the agreement between the US and South Korea, which was recently concluded, may be blocked. South Korean lawmakers said that the parliament can not ratify the agreement unless the US does not make a number of concessions. First of all, it is about the administration of the White House to exclude from the list of South Korean cars that fall under duties.
It should be noted that the President of South Korea can not ignore the opinion of the parliament and unilaterally ratify the agreement. As for the US response, the Speaker of the State Department Robert Lightheather has not commented on the current situation.
As for the technical picture of the EURUSD pair, the buyers confidently got close to the resistance in the area of 1.1605 and are trying to form on it a new support zone for further growth. If the above scenario is worked out, it is most likely that the trading instrument will return to the highs of 1.1630 and 1.1655. In the event of an unsuccessful breakthrough of resistance at 1.1605, it is likely that a downward correction to the area is now the support level of 1.1565.
The material has been provided by InstaForex Company – www.instaforex.com

[ad_2]

Source link