An alarming call for buyers of European currency (Demo)
Good mood indicators in business circles of Germany prevented the euro catch the 1.1200 level that has led to a decrease in paired with the U.S. dollar at the beginning of the North American session.
Despite the fact that good performance once again confirmed the strength of the German economy, and growth will make positive forecasts for GDP growth, Germany is already for the second quarter of this year, investors are more focused today on remarks by ECB President Mario Draghi. It is very important that the ECB President says, as one of sustainable growth of the eurozone economy's flagship-Germany-to generate sustainable growth in other Member countries.
If Draghi will continue to adhere to the wait-and-see position, affirming the need for a more thorough and in-depth analysis of economic data before making a decision to raise interest rates and reduce asset buy-back programme, the pressure on the euro can increase dramatically.
According to today's report, the German Institute Ifo business sentiment index, circles in Germany in June this year reached new record highs, having much better forecasts of economists.
So, the business climate index in June rose to 115.1 points versus 114.6 item in may, while economists were expecting it to 114.4 points.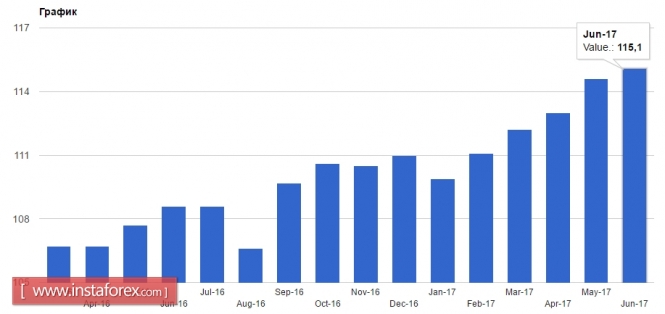 As noted in the report, such recovery experts link with low interest rates, a weak euro and a drop in oil prices, which had been going on since the beginning of this year, that supports the mood of German companies at a high level.
I would like to remind that last week the Ifo Institute raised its forecast for growth of the German economy, revising the annual growth at 1.8% vs. 1.5% previously, whereas in the year 2018 expected GDP growth of 2.0%.
An alarming call for buyers of the European currency is a falling euro after such good economic data for Germany.
If Mario Draghi does not encourage traders new economic forecasts, it is likely that closing today below 1.1180 could seriously shake the faith of purchasers in further upward movement of risk-weighted assets. This will lead to a quick short sale trading instrument in the area of support for the mid week 1.1120.
If as a result of the day of the closure will be in the area of the opening day level or just below, you can expect further upward movement of the euro with a view to updating and 1.1230 1.1250.
Material is provided by InstaForex-www.instaforex.com