Trump's actions could lead to financial crisis in Turkey
[ad_1]

The US dollar continued to strengthen its positions against the euro and other risky assets amid the new statements made by US President Donald Trump regarding Turkey, as well as the actions of the European Central Bank.
Inflation data in the US, which grew in July this year, had a positive effect on the US dollar, and now many investors expect at least two increases in interest rates in the US this year.
According to the report of the US Department of Labor, the consumer price index rose by 0.2% compared to the previous month. Core inflation, which does not take into account the volatile categories of goods, also showed a monthly growth of 0.2%. All the data fully coincided with the forecasts of economists. Compared to the same period of the previous year CPI index grew by 2.9%, and the base index showed an annual growth of 2.4%.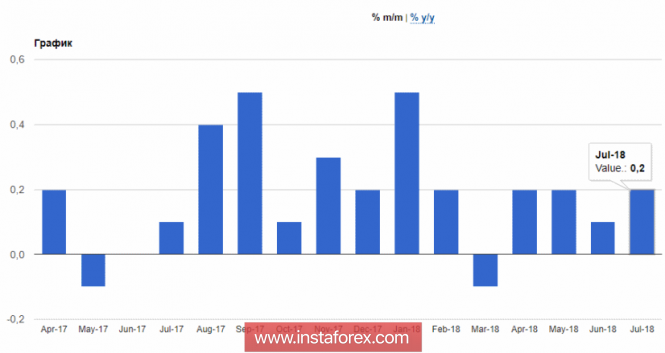 The US budget deficit for the 10 months of the fiscal year has grown because of a significant increase in government spending.
As noted in the report of the US Treasury, during the period from October 2017 to July 2018, the government's budget deficit amounted to $ 683.97 billion, while the deficit for the same period last fiscal year amounted to 566.02 billion dollars. The growth was 21%.
Statements made by US President Donald Trump on Friday put pressure on risky assets.
Trump expressed a desire to double the tariffs on imports of goods from Turkey, saying that relations with Ankara can not be called good. The administration of the White House expects that duties on aluminum imports from Turkey will be 20%, and on steel 50%.
At the same time, President Recep Erdogan urged his citizens to sell their savings in foreign currency and gold and buy lira. In his opinion, this will be an effective response to the West for new measures proposed by the US president.
The news that the European Central Bank will no longer accept Greek government bonds as security for loans has also exerted pressure on the euro. The regulator said that after the completion of the Greek financial assistance program, Greek bonds with a "junk" rating will no longer be accepted, which will significantly impede access to new, cheap loans for Greek banks and substantially worsen the economic prospects of Greece.
The Canadian dollar continued to decline against the US dollar, even despite data that showed that employment in Canada in July this year rose and exceeded the forecasts of economists.
So, according to the National Bureau of Statistics of Canada, in July of this year, 54,100 jobs were created, while economists expected job growth of 17,000. Unemployment in the country was 5.8% compared to 6% a month earlier, whereas experts expected it at 5.9%.
The material has been provided by InstaForex Company – www.instaforex.com

[ad_2]

Source link